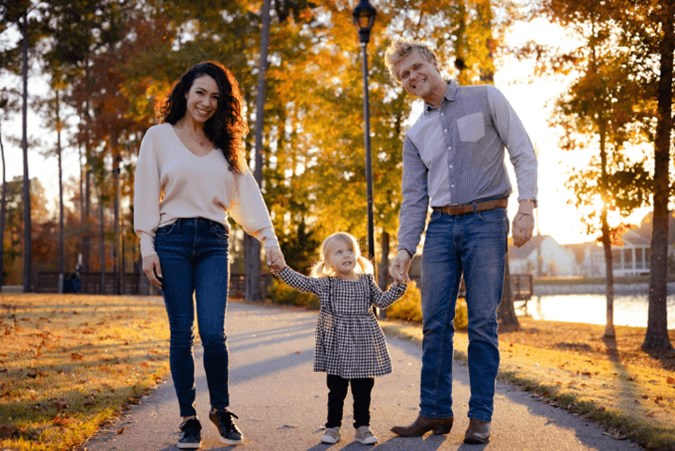 Why Millennials Love Wendell Falls
Wendell Falls is a master-planned community with endless amenities, 10+ miles of hiking and biking trails, all the conveniences you could need and neighbors that feel like family. With so much to love, here are the top reasons millennials love Wendell Falls.
It's a place to plant your roots
Wendell Falls has schools, daycare, family friendly events, parks, playgrounds and many other families right here in the community, making it a great place for young families to plant their roots.
"This community has been such a great environment for us. Kids are always running from one house to the next, and there is so much open space for them to play and amenities for families to enjoy. It's a great place where you can trust where your kids are and not have to worry. We make lots of memories together as a neighborhood, and we've really found our home and extended family here." – Emily and Graham, Wendell Falls residents
Residents feel like family
At Wendell Falls, neighbors are more than just neighbors, they're your extended family.
"Everybody is always looking out for each other. We know we can call our neighbors if we ever need anything, no matter if it's house-sitting, pet-sitting or sharing cooking supplies or yard tools. And we do the same for them. It's just that type of neighborhood; that's why we love it." – Tereza and Johnny, Wendell Falls residents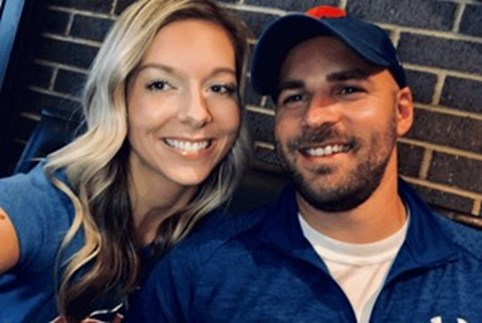 There's so much to enjoy
As a Wendell Falls resident, you have 10+ miles of hiking and biking trails and resort-style amenities, such as a water park and pool, fit pods, a fitness center and more, right in your backyard.
We love all the amenities and open spaces in Wendell Falls. We take long walks all the time and appreciate how well maintained the trails and parks are. It makes for lovely sight-seeing!" – Kyle and Katie, Wendell Falls residents
Farmhouse Café
A go-to spot for Wendell Falls residents, Farmhouse Café serves a variety of breakfast and lunch dishes with unexpected flavors. Farmhouse Café also offers a "social menu" in the evening that consists of shareable plates designed to be paired with a glass of wine or craft beer.
We would stop by the Farmhouse every time we visited, and we always got the same thing -- our favorites: "the Justin" and "the Miriam." I would give Johnny half of my Justin sandwich and he would give me half of his Miriam wrap, so we had the best of both worlds! – Tereza
Everything you could want is right here in the community
From everyday conveniences to restaurants and more, everything you could want is right here in the community. Treelight Square is home to Publix, Dental Care of Wendell Falls, Kindercare and Wake County Fire Department & Emergency Medical Services with conveniences, such as AFC Urgent Care, and restaurants, such as Parkside, Don Beto's Tacos and Tequila, Romeo's Pizza, Starbucks, Jersey Mikes and more, coming soon.
"When we visited, we really fell in love with the way the community was laid out. Once we learned the community's plans for expanding and the commercial space that's underway, we didn't bother looking anywhere else. Our realtor told us there was nothing else like Wendell Falls in the Triangle, and we knew this was our home. It was a no-brainer." – Donnell and Tiffany, Wendell Falls residents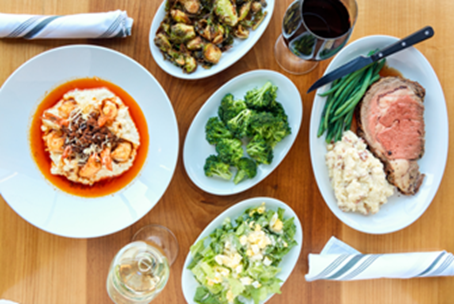 Ready to move in? Check out our available homes and read our resident stories for more reasons why residents love Wendell Falls!  
Wendell Falls is located just 15 miles from downtown Raleigh, North Carolina, one of the fastest-growing metro areas in the U.S. Explore artfully crafted new homes and townhomes from the mid $300,000s – $900,000s+.