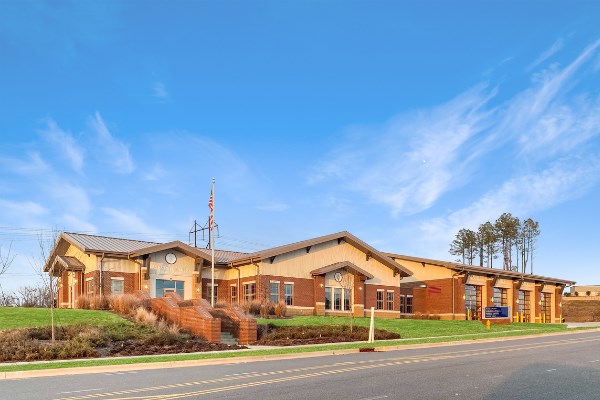 Wendell Falls Fire and EMS
At Wendell Falls, our residents come first – from their green-built homes and active lifestyles to their health and safety. That's why we partnered with Wake County to build our community's very own public safety building!
Located on-site at Wendell Falls at 6021 Taylor Road, the Wendell Falls Public Safety service entails an EMS and a fire rescue department with state-of-the-art equipment and highly trained personnel. It's 16,000+-square-foot building features four double bays with shiny red fire engines along with sustainable features, such as its array of solar panels. (Nothing like saving the planet while saving lives!)
Opened in April of 2020, the fabulous collaboration combines the fire rescue skills of the Wendell Fire Department with the medical expertise of Eastern Wake EMS to provide unrivaled care for our Wendell Falls residents. Wave next time you pass the gorgeous brick building sporting an American flag, located right off of Wendell Falls Boulevard.
Thank you to our heroes from fire rescue and EMS who serve on the front lines to keep Wendell Falls safe.
*Image courtesy of WakeGOV.com.
---
Wendell Falls is located just 15 miles from downtown Raleigh, North Carolina, one of the fastest-growing metro areas in the U.S. Explore artfully crafted new homes and townhomes from the $230,000s – $600,000s+.