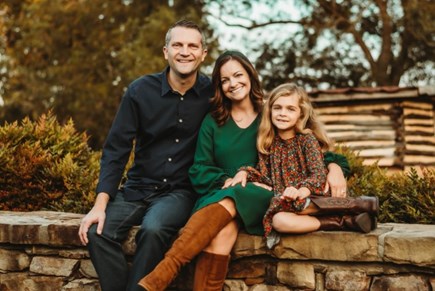 Resident Spotlight: Meet Kevin Flinn
Kevin moved to Wendell Falls with his wife, Allison, five years ago while looking for a community to live in while raising their daughter, Lucy. Since then, Kevin has shared his love for music and bonded with his neighbors by playing together and performing at Farmhouse Café.
Tell us your story! What brought you to Wendell Falls?
My wife and I moved here after having our daughter because we realized that we wanted a place with events and amenities we could take our daughter to, and a community where we would be close with our neighbors. We looked at Wendell Falls, and it was an easy decision.
What made you fall in love with Wendell Falls?
We loved the amenities, such as the pool and Farmhouse Café, and that my daughter would have other kids in the community that she could play outside with and would be able to walk to school at Lake Myra Elementary. That's what really sold us. 
Since then, we've become close friends with so many of our neighbors and we've really found the sense of community we were looking for.
Tell us about your music!
I've been writing songs and playing in bands ever since I was an undergraduate in college. I played in a quartet, Free States, for a handful of years. It was bluegrass instrumentation, and it was great. I've been playing on my own since 2015, and I usually play about half songs that I've written along with some songs that I love by Bob Dylan, Grateful Dead and Wilco.
How has music embraced your sense of community at Wendell Falls?
During the beginning of the pandemic, I set up my equipment in our garage and played from 5 p.m. to 7 p.m. every Friday for months. It was great because the neighbors would pull out their lawn chairs and coolers, drive by and listen to a few songs on their golf carts or just hang out on their porches and listen to music together. The number of people who said to me how much they appreciated that and how much they look forward to that every Friday was really heartwarming.
Then from 8 p.m. until the wee hours of the morning, I would get together with handful of neighbors who also played, and we would just jam in somebody's garage. That really got me through 2020. It helped knowing that I had something to look forward to where I could interact with others safely, and it gave me a reason to practice my music and learn new songs. 
It was such a cool experience, and I don't feel like I would have been able to do that anywhere else.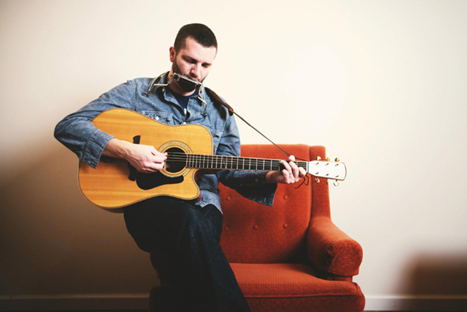 What's it like performing at Farmhouse Café?
I've been a performing musician for almost 25 years now, and to have somewhere local in your neighborhood to play is really meaningful. A couple Fridays ago at Farmhouse Café, I had a few neighbors sitting in, and the place was packed with people we know. It's really special to get to share that with a community.
Now that you've been living here for over five years, what do you love about Wendell Falls?
The sense of community. Back when the pandemic first started, I was supposed to play at Farmhouse Café the day things started shutting down, and we had to cancel the show. During that time, the owner Patrick kept in touch with me, and when they were able to have events again, he asked me to be the first one to play. That meant a lot to me.
Once I got back out there, the lawn was full, and the café was bustling. It just felt so natural and almost euphoric to have the community all together again. Farmhouse Café has always been a special place for residents, and you really saw the residents and the community take care of each other in the pandemic. Farmhouse Café offered take-out pizza during lockdown, and the residents were there making sure that the café kept going. I'm really grateful to be a part of a tight knit community that takes care of one another. 
What would you tell someone who is considering moving to Wendell Falls?
That there's something here for everyone. The neighborhood's great for people with kids, but there's also plenty for young adults and 55+ residents. There are tons of amenities anyone would enjoy and residents of all ages. We're only 15 minutes from downtown Raleigh, and we're also not that far from eastern Wake County where people can ride ATVs and go hunting. There's so much possibility.
Check out Kevin Flinn on SoundCloud, and follow Farmhouse Café on Facebook to keep up with when Kevin will be back on stage!
Cover image by Emma Branch, internal image by Brett Donar
Wendell Falls is located just 15 miles from downtown Raleigh, North Carolina, one of the fastest-growing metro areas in the U.S. Explore artfully crafted new homes and townhomes from the mid $300,000s – $900,000s+.