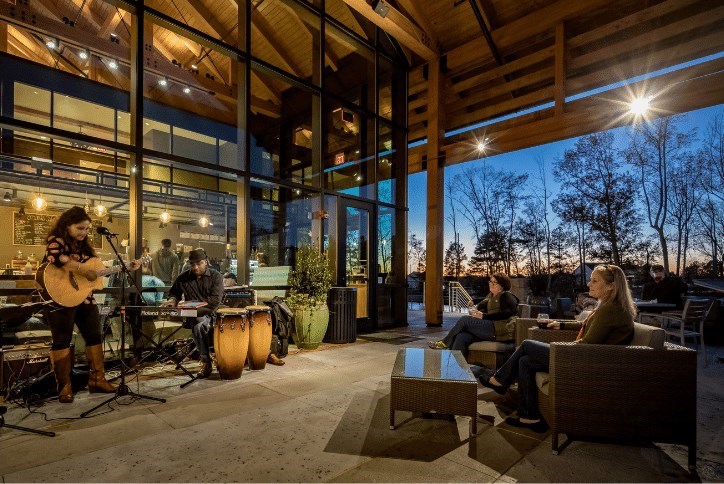 Wendell Falls Is Designed To Connect You With Your Neighbors
Strong community bonds can foster emotional and physical health and are an essential component of adult life—how you live matters. Our community planners keep neighbors connected to their neighbors, outdoor recreation, and their community. We believe that the surge in "surban-living" (traditional suburban neighborhoods with all the perks of urban-living) shows that homebuyers seek thoughtfully designed communities that keep them connected.
Best Neighborhood Amenity When Buying a New Home: "Third Places"
Newland surveyed residents in our U.S. master plans in late 2020 and found that having a sense of community and personal connection was a priority to residents' sense of well-being and that lacking those connections makes people feel isolated and unsafe. 
When buying a new home, urban planners point to the importance of "third places" in a community. "Third places" refer to places where you spend most of your time when you are not at home ("first") or work ("second"). The role that these "third places" play connects people and strengthens a sense of community. When buying a new home, consider the amenities the neighborhood offers that can benefit your daily life. In a world where "third places" are now more virtual or online, physical places where people can easily and routinely connect are critical to fostering connectivity.
Newland Master Planned Communities – Homebuyer Trends
Newland master-planned communities are designed to optimize connection between neighbors through organized activities, gathering places, and close-to-home parks and trails that allow neighbors to meet and see others while enjoying the outdoors. John Burn's Real Estate Consulting recently highlighted the importance of connection and community as an important trend for homebuyers and featured the Wendell Falls community near Raleigh-Durham as an example of a community designed to build such connections.
Wendell Falls, A Model for Fostering Well-Being Through Connections
The information center at Wendell Falls, also known as The Farmhouse, supports interaction between current and future residents by incorporating The Farmhouse Café that serves breakfast, lunch, and dinner run by a local chef to build personal connections over food & drink. The design for The Farmhouse serves as a multi-use space, and it is used daily by those working from home, kids doing homework after school, and neighbors gathering to meet, hold meetings or catch up. It's part fitness center, part community gathering place. 
Wendell Falls is also designed with "connection nodes" that allow for frequent, informal gatherings. These include a dog park, festival lawn, ten miles of trails to walk, run, or bike and a Lakeside Pavilion that is an excellent spot for outdoor mingling, with charcoal grills, picnic tables, and a shaded gathering area with an outdoor fireplace. The pavilion also features colorful Adirondack chairs and cornhole games.
Connection and community are fundamental human needs, and intentionally designed community spaces like these bring people together in beautiful ways.
---
Wendell Falls is located just 15 miles from downtown Raleigh, North Carolina, one of the fastest-growing metro areas in the U.S. Explore artfully crafted new homes and townhomes from the mid $200,000s – $700,000s+.