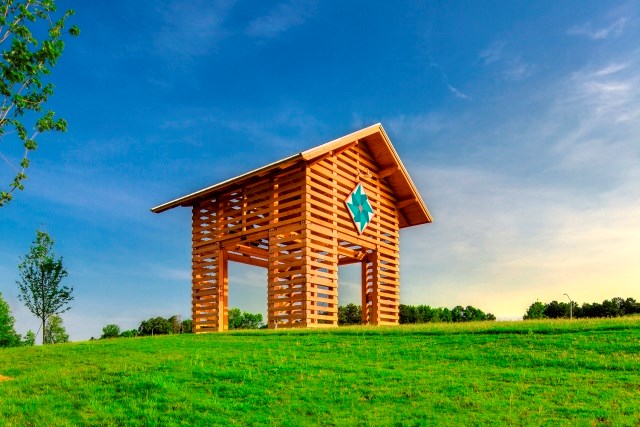 Wendell Falls Joins the Quilt Trail
Cali Buhrman
Customer Relations
When we first started Wendell Falls, our vision for the Tobacco Barn was this: to have a unique community gathering spot that captured the rich history in Eastern Wake County. We really wanted a colorful barn quilt to display on the top of it, but had no idea where to have one built, or if it was even possible to make one large enough to be seen from the huge outdoor structure.
After a lot of research and talking to locals, we discovered the Quilt Trails of the Tar River project and reached out their team for help. They not only told us that they could build our quilt blocks, but invited us to join the tour! We were so excited to team up with this organization, and after months of hard work our Tobacco Barn was complete, and our dream of having a barn quilt came to life!
This project was started by the Franklin County Arts Council, and has quickly grown to encompass Eastern and Central Wake counties. The Quilt Trail is "designed to capture the history of our communities through the display of quilt blocks on historic buildings and structures in Franklin and surrounding counties."
A member of the council, Charles Edward Powell, explains that "each block has a different story to tell about the owners and their location. History can be seen through these blocks. Our trail is the only official trail in Eastern North Carolina." Members of the art council spend many volunteer hours building, priming, and painting a single quilt pattern on each block to be displayed on the trail.
The town of Wendell has a rich history that goes back to the 1800's, and is even on the National Register of Historic Places. Wendell Falls is excited to be a part of this history, and we are committed to protecting the unique story of Wendell through all that we do.
Have you seen our stop on the Quilt Trail yet? Check out the pictures below showing the progress: