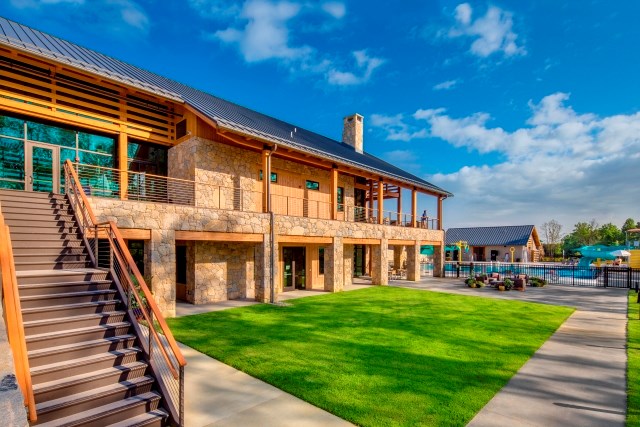 DEVELOPER EMBRACES 'SURBAN' APPROACH
By: Jennifer Goodman, Builder Editor 
In its recent 2019 Emerging Trends Report, ULI predicted the rise of the "surban" community — a remake of the suburbs to offer the best of both suburban and urban life.
These developments, the research predicts, will largely dominate the market. In fact, another earlier 2018 ULI report noted that both millennials and baby boomers desire this walkable, connected lifestyle, and these two demographic make up the majority of current home buyers.
Newland Communities has embraced this idea in its Wendell Falls project in Raleigh, N.C. Now in its third year, Wendell Falls is one of the top-selling communities in the area with a 38 percent YOY sales increase. Here, BUILDER talks with Newland's vice president of marketing Shannon McSwiney, about the popularity of these types of developments.
1. How do you define surban design and why is it so popular right now?
Surban denotes a location and lifestyle that is all about the right blend of the open space and neighborly community of the suburbs along with the active, vibrant social opportunities of an urban district. Surban is as much about the energy and walkability of urban living as it is about the attainability and fresh air of America's traditional suburbia. Downtown living often comes with a higher price, though, in order to be near hotspots and nightlife. Today's approach to developing a true, mixed-use community brings those desirable lifestyle goals together in one place (close to downtown nightlife and employment centers) by providing its own "walk, shop, dine, live" component. Today's home shoppers, regardless of demographics, are demonstrating that this type of active lifestyle is appealing and desirable if done properly/with care.
2. How does Wendell Falls implement this idea?
From inception, Wendell Falls was designed to create a walkable, more connected way of life. We are connected to and celebrate the warmth and welcome that a small town community brings with a style and flair more reminiscent of a big city. The contrast of what Wendell Falls is delivering to the Wake County market is unlike any other master-planned community in the area. Wendell Falls provides an interconnected lifestyle with opportunities to walk, dine, shop, live and work, all within the community. 
When complete, Wendell Falls has the potential to include up to 4,000 single-family homes, multi-family homes and townhones, approximately 2 million square feet of commercial/retail, and acres of parks and trails--cornerstone elements of the surban concept. A few ways we mix both urban and suburban ideas include:

--Walkable Mixed-Use: Wendell Falls has the ability to recognize approximately 2 million square feet of commercial, multi-family and retail space at full buildout. This includes our Farmhouse, which houses the information center, a coffee shop, and fitness center. The café hosts activities like a taco night, trivia night, run club and other special events throughout the week. Additional businesses will be incorporated in key sections of the community. A childcare facility and high-end convenience store have already joined the tenant roster. And an elementary school is present onsite, nurturing neighborhood children from kindergarten through fifth grade. 
--Social Events: Wendell Falls offers social events that mirror the "happening hotspots" of an urban scene. Activities include live music, trivia nights, game nights, sip & shops, outdoor yoga, run club, mom meet ups, Farmhouse Jams (our outdoor music concert series), wine tastings, community dinners and festivals that millennials and baby boomers highly crave. There's almost no need to leave the community with its boundless entertainment options. Resident-only events are hosted by the community lifestyle director, while public events are offered through Grounds Café or the on-site Newland marketing team.
--Open Spaces: The community already enjoys a dog park and Shin Dig Park with cornhole and a fire pit for social gatherings. The Grove opens this year with a "fit pod," hammocks for lounging, tiered seating among the trees and a space for musical entertainment or movies. In the future, a 273-acre county park adjacent to Wendell Falls will directly connect (via walking and biking trails) to residential and commercial components of Wendell Falls.
3. How does it appeal to both millennials and baby boomers?
The majority of our home buyer market consists largely of millennials and baby boomers, and while the two segments seem disparate in age and life stage, they desire a similar lifestyle and home offering. By nature, they crave experiences over possessions. They prefer to spend their resources on going, doing, tasting, seeing, actively creating memories in a forward-thinking community. Baby boomers--often empty nesters for the first time--are eager to pursue experiences they haven't previously been able to enjoy while shouldering the responsibility of family and debt; they want a built-in social network. Both audiences desire an attainable, active, social, healthy lifestyle.
4. What has the buyer response been so far?
Appealing to all life stages, Wendell Falls is home to 567 families today and growing at a rapid pace. In 2018 alone, sales at Wendell Falls skyrocketed 38 percent year over year, and Wendell Falls moved up one spot to number three on Metrostudy's area list of top communities ranked for annual starts. Few other communities in our region offer such a thorough blend of suburb and urban aesthetics, and buyers flock to this fresh living option.
To read the original article published in Builder magazine, click here.
Contact Us
Please click below to contact our team and we will be happy to answer any questions you have!
Contact Us
Categories