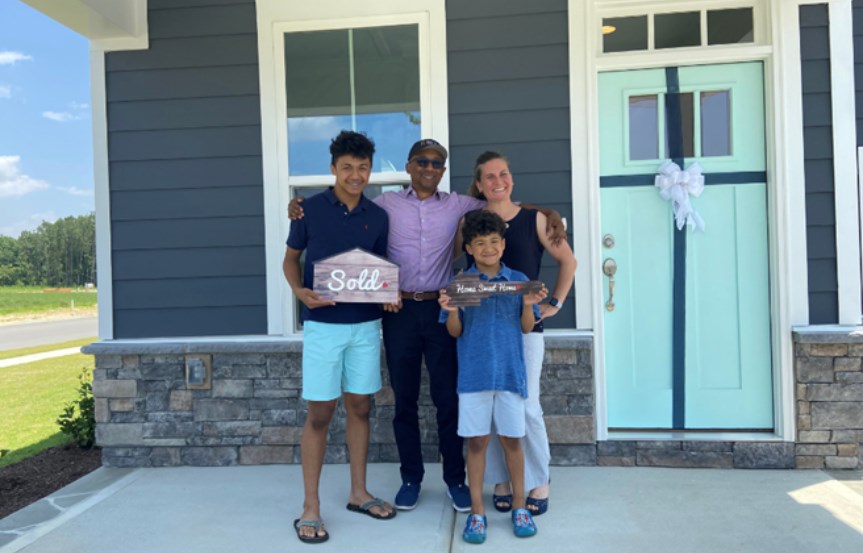 Resident Spotlight: Phil and Jeanine
Phil Godbolt moved to the Raleigh area in 1995 after his father retired from the Air Force. Phil went on to graduate from N.C. State University with degrees in electrical and computer engineering. After working in the industry for years at IBM and SAS, in 2019, he was recruited to join Google at the brand's headquarters in California. When the pandemic hit in 2020, remote working gave him the opportunity to move back to Raleigh with his wife, Jeanine, and two sons, Ethan and Dominick.
After being back for three years, Phil and Jeanine decided it was time to live in the kind of neighborhood they had always dreamed of – one with a true sense of community and a great place to raise their family.
Now, Phil and his wife are the first Brookfield Residential homeowners in Wendell Falls, and the first residents to close on a home in Phase 10 of the community.
Tell us your story! What brought you to Wendell Falls?
We've always aspired to live in a great neighborhood like Wendell Falls with other families and a true sense of community. From what I've seen, it's rare to find that, especially in a new build community.
When I visited Wendell Falls for the first time, the information center staff, particularly Emily, was so warm and welcoming. With everything coming to the community and the people who live here, I realized that this is the total package.
We ended up connecting with Brookfield Residential in the new Phase 10 expansion, and there just happened to be a quick move-in home available right across from the new pool being built. We are so excited to move in and be a part of a growing community.
What made you fall in love with the community when you visited?
When I pulled into Wendell Falls, I was immediately impressed by the green space and the walkability of the community.
Then when I went into the Farmhouse Café, I was blown away by everything it had to offer. I saw my favorite beer, Guinness, and I'm also a huge cornhole fan, so I loved seeing the cornhole boards outside the Farmhouse.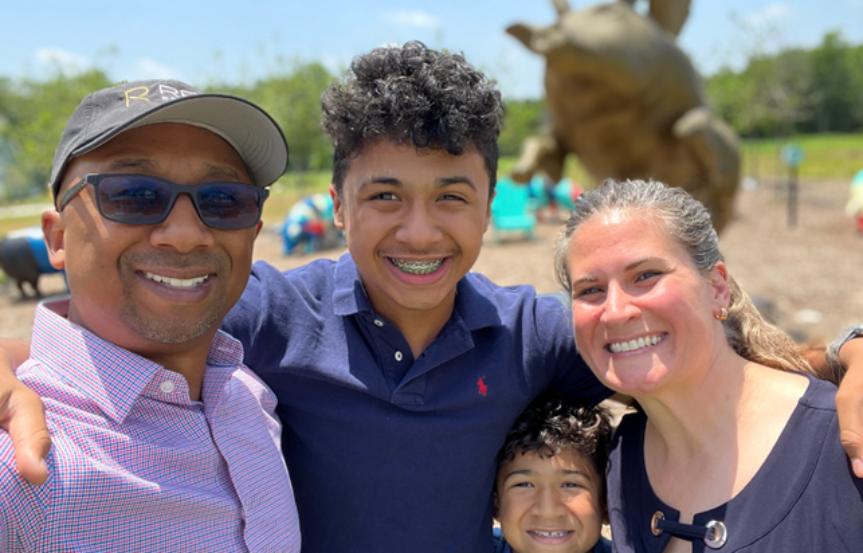 You are the first Brookfield Residential homeowner in the community! Can you tell us a little about your home?
From the aesthetics to the location and quality of the home, it has everything I could have imagined. We have a Mason floorplan, which is an open floorplan with a large kitchen island, a screened porch, a guest suite, an oversized sliding glass door and a second floor loft. When you walk into the home, it's clear that a lot of quality work was put into the space.
Our house also has a few upgrades, such as the gourmet appliance package, artisan interior trim package, kitchen and bathroom lighting and fixture upgrades and frameless shower. Our home is really my ideal home!
What has the process been like working with Brookfield Residential?
Our house was nearly complete when we got it, but throughout the process of finalizing design details, Brookfield Residential exceeded our expectations to make sure that our home ended up exactly how we wanted it.
Brookfield Residential, specifically Cathy, Kyle and Jessica, have been amazing to work with throughout the process. I felt we were on the same team working together to close on the house in record time. They found creative ways to overcome obstacles or delays, which showed their dedication to making the home buying process as seamless as possible.
What are you excited about for the future of the community?
We are excited to see Treelight Square come to life with all the restaurants and shops planned for the space. I love the convenience of being able to drive my golf cart to pick up groceries at Publix, and with the other commercial spaces planned for the community it's going to be like a mini city in our backyard.
Is there anything else you'd like to share?
I'd like to give a shout out to my wife, Jeanine, and two sons, Ethan and Dominick, for their support through the move and transition, my agent, Kelly, for partnering with me to make this all possible, Emily from Wendell Falls for being the first person to greet me when I initially visited the Farmhouse and for being so warm and welcoming, Brittney and Joseph from the HOA office for working with me throughout the DRC process, Chloe and Lauren from the Farmhouse Cafe for the amazing lattes and smoothies and Olivia from the PR team and doing a great job while making this testimonial fun!
Ready to move to Wendell Falls? Check out the available Brookfield Residential homes here!
Wendell Falls is located just 15 miles from downtown Raleigh, North Carolina, one of the fastest-growing metro areas in the U.S. Explore artfully crafted new homes and townhomes from the mid $300,000s – $900,000s+.