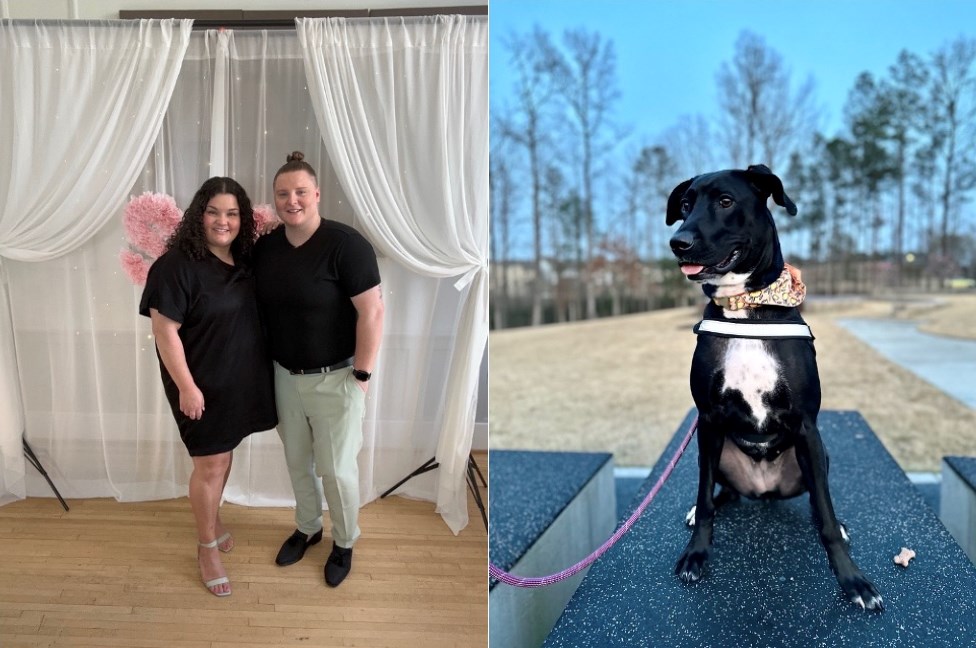 Resident Spotlight: Emily, Andrea & Tilley
Just over a year ago, Emily, Andrea and their dog, Tilley, moved to Wendell Falls while looking for a close-knit community in an area with opportunities for personal and professional growth. If you follow us on Instagram or have visited the Farmhouse you may recognize Emily! She is a community representative here at Wendell Falls and is featured in many reels on our page!
Tell us your story! What brought you to Wendell Falls?
Andrea and I came to Wendell Falls from a small town in Michigan just over a year ago. It's the type of town where you are born and raised there, and no one ever leaves. We were seeing an increase in crime and a decrease in opportunities, and ultimately, we just wanted more for ourselves and for a future family. While creating space between us and our family was difficult, we were so thrilled to find this community. We couldn't be happier!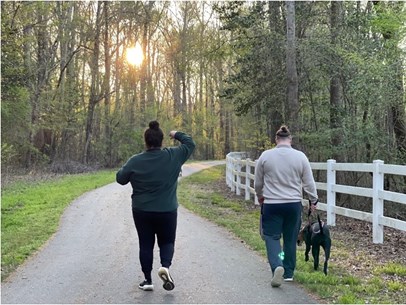 What made you fall in love with the community? 
When we were looking into Wendell Falls, the amenities, such as the pool (soon to be two pools), hammock park and dog park, the events and the commercial spaces coming to the community really caught our attention. We knew that there would be plenty of opportunities to meet new people, and with Treelight Square and The Collective, everything we need is right here. And if it's not, it's just a short drive away. 
What kinds of events do you enjoy in the community?
We really enjoy golf cart parades, the dueling pianos holiday event and Farmhouse Jams, of course. It's great that there are events for the little ones and 21+ events in the community.
We love your reels on Wendell Falls' IG - can you share a little about what it's like working in the community?   
I am a community representative and part of the marketing team at Wendell Falls. Whether it's creating content, updating the website or touring families looking to move to Wendell Falls, I love what I do -- especially making reels! I'm thankful to work for a company that allows us to be creative and have fun while creating content!
Working in the community also has its perks. For example, my commute is only three minutes by golf cart. Can't beat that, right?
What is your favorite thing about Wendell Falls?
Our favorite thing is the people. You can fill a community with great amenities and events, but it's really the individuals of the community that make it so great. From the very start, we have been greeted with friendliness and inclusiveness. We've already built so many great relationships that we hope last a lifetime. 
What would you tell someone who is considering moving to Wendell Falls?
If you're wanting to live in a community where there are events happening every week, amenities around every corner and endless opportunities to make friends, Wendell Falls is for you. I love where I live and where I work. Come visit me at the community information office and I'll tell you more!
Ready to learn more about living at Wendell Falls? Visit Emily at the information center (located inside the Farmhouse) and check out our available homes here!
Wendell Falls is located just 15 miles from downtown Raleigh, North Carolina, one of the fastest-growing metro areas in the U.S. Explore artfully crafted new homes and townhomes from the mid $300,000s – $900,000s+.