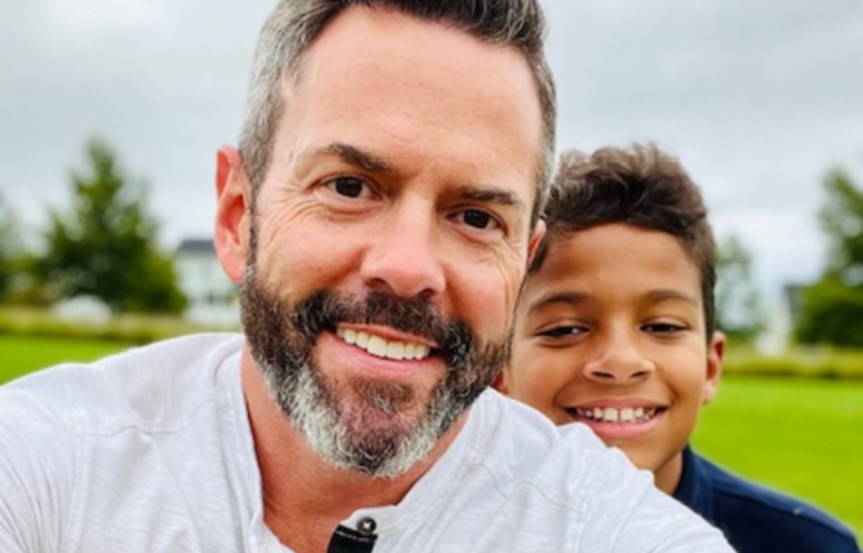 Resident Spotlight: Meet Tyler
As someone who is a part of the LGBTQ+ community, it was important for Tyler to find a neighborhood where he and his son would feel a true sense of community. After hearing positive stories from friends living in Wendell Falls and visiting for themselves, they knew this was the community for them.
Tell us your story! What brought you to Wendell Falls?
I had never heard of Wendell Falls, but it kept popping up in my feed on Facebook, so I decided to check it out. My son was eight at the time, and he did not want to move. He was worried about leaving his friends behind. But when we visited, we both fell in love with the area and the community.
What made you and your son fall in love with Wendell Falls?
One of the things that attracted me to the community was that some of my friends in the LGBTQ+ community already lived in here. They shared their experience of how safe it is and how friendly everyone is, and that made me I feel like I could openly be myself without having to worry about anything. And that was evident when we visited.
After seeing the community, my son went from not wanting to move at all, to asking if we could move here tomorrow. He could immediately see himself making a lot of friends, and I love that it's safe enough for him to ride bikes and play in the neighborhood. We brought our bikes when we visited during the building process to check out the trails here, and he loved every minute of it. It was great to find a place with outdoor amenities that Griffin and myself could enjoy together. That made it a no-brainer for me. 
Tell us about building your home with Garman!
Building with Garman was hands-down one of the best experiences I have ever had. I built my first house in Youngsville, and the experience was awful. After that, I swore I would never build again, but my real estate agent convinced me, and my experience with Garman was outstanding. I immediately clicked with my sales agent, and throughout the building process, I got to know the project manager and visited the home every Sunday to see how things were progressing. Even the 12-month warranty period was a piece of cake. They fixed every single thing that came up with no questions asked.
Are you involved in any clubs in the neighborhood?
I am a part of the LGBTQ+ resident Facebook group that has more than 75 members. There have been a couple of meet ups at the Farmhouse and a few movies nights at hammock park. It's so nice knowing that there are people in the neighborhood who support the LGBTQ+ community. The sense of community overall is refreshing. I know that if I need something, I can go to a neighbor or post in the Facebook group. Everybody here is willing to help everybody, and I've always felt welcomed by everyone.
Giving back to the community is also a huge aspect of my life. I currently volunteer with the local chapter of GayForGood, and we do a lot of amazing projects with organizations all over the Triangle, such as Habitat for Humanity, Note in the Pocket and the NC Food Bank. I want to ensure Griffin understands the importance of giving selflessly and helping those less fortunate.
How has living in Wendell Falls impacted you?
Being part of this community reminds me of growing up in my small hometown neighborhood. I have wonderful memories as a child roaming the streets with my friends, my parents enjoying evenings with friends while the kids played in the yard. Times have changed, but Wendell Falls reminds me that those neighborhoods can and do still exist. That speaks volumes for this neighborhood.
Tell us more about your work as a real estate agent!
I am a broker with Fonville Morisey out of the Wake Forest office. I represent buyers and sellers all over the Triangle. I am currently working on my NC Appraisal license and plan to get my certification in Interior Design. 
I am a second-generation real estate agent. My father was a broker in Elizabethtown, NC and taught real estate at Bladen Community College. My dad passed away before I was licensed but I know he would be very proud of me following in his footsteps. 
What would you tell someone who is considering moving to Wendell Falls?
First, I'd love to help you buy in Wendell Falls, so if you need an agent, contact me! I'd love to give you the grand tour! But seriously, you won't regret it. If you're looking for that sense of belonging somewhere and pride in your neighborhood, this is the perfect community for you.
Ready to move in? Check out our available homes!
Wendell Falls is located just 15 miles from downtown Raleigh, North Carolina, one of the fastest-growing metro areas in the U.S. Explore artfully crafted new homes and townhomes from the mid $300,000s – $900,000s+.