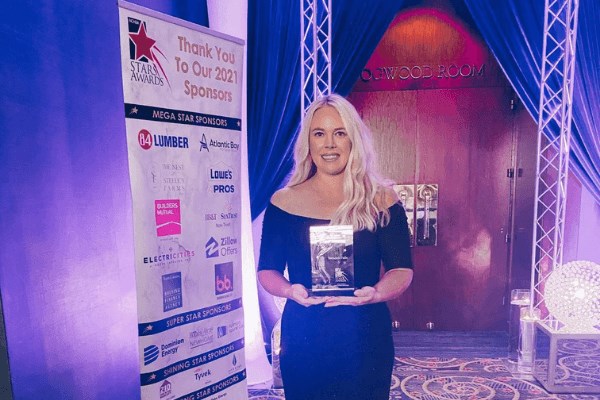 Wendell Falls wins at 2021 STARS Awards!
Wendell Falls was honored to take home 'Best Community Landscape Design' at the 2021 STARS Awards!  
We are proud to uphold a land plan that supports a sustainable environment and celebrates the outdoors. Our homes are nestled into the natural topography and grading of the land to allow extra space for active parks. The land plan preserves natural tree covers, vegetation and reclaimed materials to honor the area's heritage. 
Residents always have options to enjoy the great outdoors with 237 acres of parks, 10+ miles of trails, an outdoor waterpark, a waterfall, outdoor spaces like The Grove and outdoor art installations like Solstice Park. Our outdoor spaces use reclaimed materials, such as boulders that now serve as seating in parks, to support a sustainable environment. 
The STARS Awards program honors the achievements of home building industry professionals from across North Carolina. Winners receive recognition in areas such as marketing and advertising, web design, sales/information center, landscape design, interior merchandising, architecture/floor plan, remodeling/renovation and special projects. 
The annual event was hosted by the North Carolina Home Builders Association at the Omni Charlotte Hotel in Charlotte, NC.
Thank you to the North Carolina HBA for putting on a wonderful event!
---
Wendell Falls is located just 15 miles from downtown Raleigh, North Carolina, one of the fastest-growing metro areas in the U.S. Explore artfully crafted new homes and townhomes from the upper $200,000s – $900,000s+.