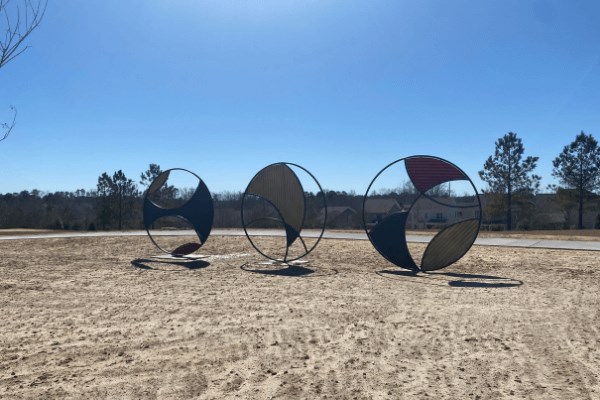 Artist Spotlight: Erik Beerbower
When Erik Beerbower, a Triangle-based artist and teacher, found that he had more free time due to the COVID-19 lockdown restrictions, he decided to make the most of it. Beerbower began working on large sculpture projects that would create eye-catching shadows.
Wendell Falls is no stranger to Beerbower's talent; he previously designed and built a solar-powered selfie cloud bench for Tall Tale Park. When Wendell Falls reached out and asked Beerbower to create another piece, he knew the exact artistic direction that he wanted to follow.
Introducing Solstice Park
Slated to open in April 2021, Solstice Park features a partially elevated parkway, a perfect spot to view sunrises and sunsets for which Wendell Falls is so well-known. The park also serves as a community hub due to its central location among several homes on the Wendell Falls trail. With Solstice Park's stunning sunsets and Beerbower's concentration on utilizing sunlight in art, the ensuing partnership was a match made in heaven.
Beerbower's Creative Process
Beerbower started creating his sculpture before ground was even broken for Solstice Park. He used a 3D modeling app, Sketchup, to geo-locate Solstice Park and examine shadows from time lapses throughout the day. His goal was to create a sculpture that paid homage to the seasons, so he built the artwork to make special shadow designs based on the equinox and solstice.  Beerbower crafted this piece from corrugated metal in vibrant colors, working closely with Wendell Falls to ensure the color scheme matched the aesthetic of the community.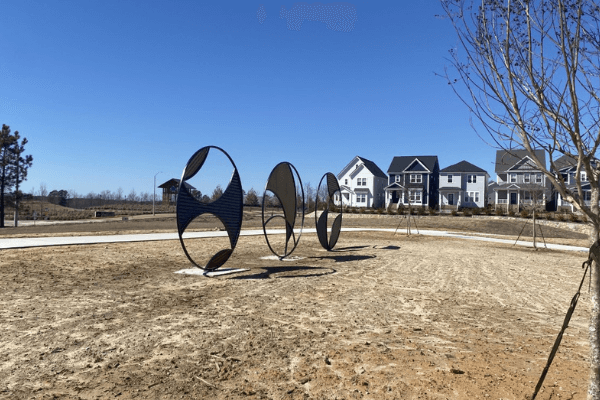 Beerbower said that he hopes his art enhances the environment and encourages Wendell Falls to be a creative community. Interested? Peruse more of Beerbower's fascinating work on his website. 
Learn More about Wendell Falls 
Wendell Falls sets a bar of excellence for creativity in its land design; in fact, the community has won numerous awards, including best landscape design and best innovative community feature. 
Check out more of our acclaimed parks and outdoor spaces!
---
Wendell Falls is located just 15 miles from downtown Raleigh, North Carolina, one of the fastest-growing metro areas in the U.S. Explore artfully crafted new homes and townhomes from the $230,000s – $600,000s+.