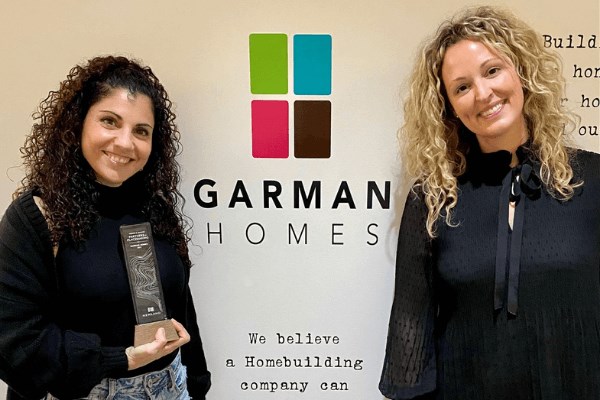 Garman Homes Wins National Newland Award
Wendell Falls is more than a neighborhood. It is a community, a home, a place to belong. And our partners play an integral role in making our community such a welcoming haven.
We're excited to honor one of our builders – Garman Homes – with the inaugural Robert B. McLeod Partners in Placemaking Award. Garman is only one of four businesses across the U.S. to receive this award this year.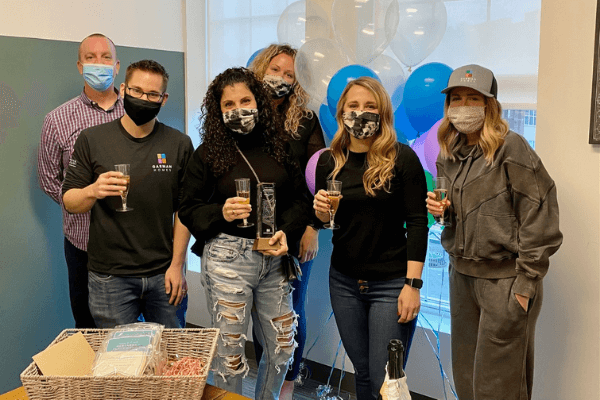 Alaina Money-Garman, founder and CEO of Garman Homes, and her team celebrating their McLeod Award.
Robert B. McLeod Partners in Placemaking Award
Named after Newland's founder, the Robert B. McLeod Partners in Placemaking Award recognizes the innovation, collaboration and expertise of the many partners Newland works with to create exceptional places and experiences where people connect, are inspired and thrive. This accolade is awarded annually from nominations submitted by Newland team members throughout the country, spotlighting the partner's accomplishments and teamwork to design, problem-solve and enrich the lives of residents.  
The Newland Raleigh-division team joined Bob McLeod himself on a Zoom call to unveil this award to Alaina Money-Garman, founder and CEO of Garman Homes. In tandem with the award, Newland announced that it will be donating $2,500 to Operation Coming Home in honor of Garman's Hero Home project.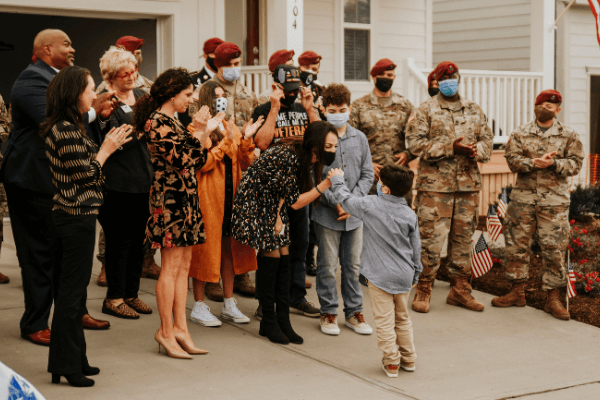 Alaina at the Key Ceremony as she presents Garman's Hero Home to the family of a fallen soldier.
Heroes at Every Turn
The McLeod Award honored Garman for its incredible Hero Home project. In 2020, Garman Homes joined forced with Nonprofit Operation: Coming Home, the U.S. Veterans Corps and the HBA of Raleigh-Wake County to build a pro bono "Hero Home" for the family of a recently fallen soldier – Sgt. Barreto.
Garman stopped at nothing to create a welcoming place for this family in need. In the middle of a pandemic, Garman convinced industry partners to donate supplies, time, permits, a lot in Wendell Falls and funds for the house. Garman perfectly tailored the home to family's needs, including a paratrooper-themed playroom in honor of the fallen soldier.
But most importantly, Garman went to incredible lengths to help the Barreto family feel immediately connected. Garman hosted a parade where neighbors lined the streets to welcome the Barretos, and a Key Ceremony to honor Sgt. Barreto.
Few companies work so relentlessly to support their communities, and Garman Homes is a partner highly deserving of the McLeod Award. Congratulations!
Read the whole story of the Hero Home!
---
Wendell Falls is located just 15 miles from downtown Raleigh, North Carolina, one of the fastest-growing metro areas in the U.S. Explore artfully crafted new homes and townhomes from the $230,000s – $600,000s+.