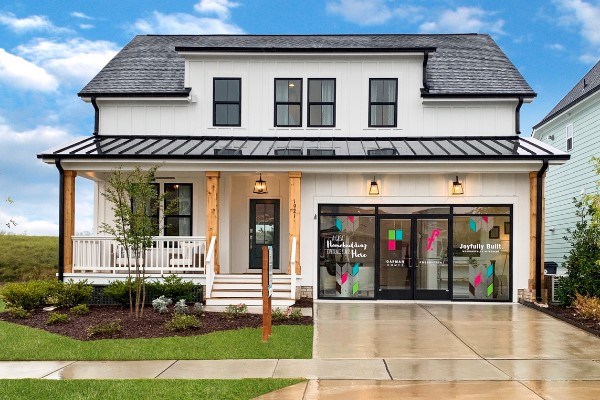 Garman Homes Launches Nonfiction
"Joyfully built. Meaningfully different."
That's the mantra and North Star for Garman Homes, one of the award-winning builders at Wendell Falls. You might recognize Garman from our joint project on the 22nd Hero Home  with Operation: Coming Home unveiled on Veterans Day 2020. Or you might have seen its spunky and chic home designs dotting our community.
Now, Garman Homes is amping up its offerings! This fall, Garman launched Nonfiction by Garman Homes, a fresh brand within the Garman Homes company umbrella.
Nonfiction: Pinterest Dreams Come to Life in Studio G
Nonfiction provides playground for your design dreams to come to life. After choosing a floorplan from its Southern Collection or Playlist Collection, you partner with Garman in its Studio G (hands-on design studio) to customize your exterior and interior aesthetics.
Been collecting a Pinterest board of kitchen cabinets, bathroom fixtures or accent wall tiles? Nonfiction offers a process to be involved in each trim and finish choice. Plus, homeowners are granted Three Wishes – genie-like opportunities to make structural or design changes to the floor plan (upon approval, of course).
Fresh Paint: Your Curated Packages
Nonfiction joins Fresh Paint, Garman's other homebuilding brand that offers "curated homes with an edge." With Fresh Paint, the Garman experts have already curated exterior and interior packages that offer well-styled homes – ready to go. All you have to do is choose a plan from Garman's Happy Go Lucky or Roshambo collections and then select a pre-curated design package – and voila!
Congrats to Garman's newest brand!
Ready to get designing? Check out our award-winning homebuilder team!
---
Wendell Falls is located just 15 miles from downtown Raleigh, North Carolina, one of the fastest-growing metro areas in the U.S. Explore artfully crafted new homes and townhomes from the $220,000s – $600,000s+.