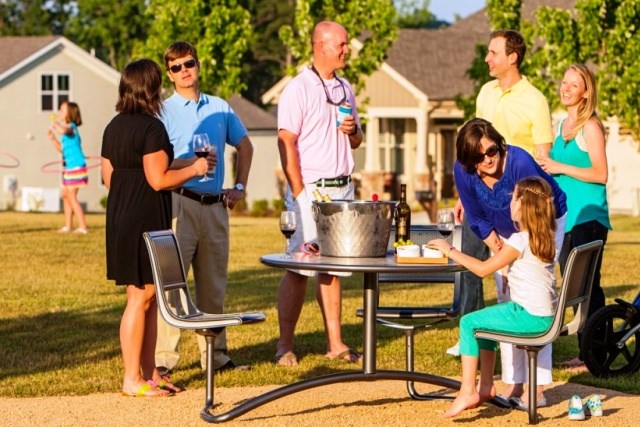 Wendell Falls Celebrates 100th Resident!
Cherith Mangum
Clairemont Communications
Wendell, N.C. – September 8, 2016 – Wendell Falls, a new-home community in eastern Wake County, marks 16 months of vibrant growth by welcoming its 100th resident. Since its grand opening in May of 2015, the neighborhood has helped bolster the local community through multiple partnerships, secured seven awards and earned the title of Developer of the Year from Green Home Building Magazine.
"My husband and I looked at communities across the Triangle for a good year, but there was something about Wendell Falls that made us keep coming back," said Emily Edmonds, the 100th resident of Wendell Falls. "We fell in love with the feeling of community that Wendell Falls has to offer. The Farmhouse, the pool, the trails, the events -- we realized it was a place we wanted to call home, and we couldn't be happier with our choice!"
As the largest master-planned community in eastern Wake County, Wendell Falls has become home to 100 residents with approximately 170 houses under contract. Since grand opening, the community has debuted a new park, launched a concert series and unveiled a vibrant calendar of food, fitness and family events that draws hundreds of visitors to the on-site Grounds Café. Expanded plans are underway to build what is slated to be one of the longest trail systems in eastern Wake County.
Wendell Falls also earned regional accolades, including two Major Achievements in Marketing Excellence (MAME) Awards from the Triangle Sales and Marketing Council (TSMC) as well as the 2016 Community Enhancement Award at the Triangle Commercial Real Estate Women (TCREW) Champion Awards. Collaborations with Wake County Schools and Wendell Parks and Recreation have launched initiatives such as a new track-out program and improvements to the local schools. Since grand opening, Wendell Falls has supported economic growth through partnerships with the Carolina Farm Stewardship Association, the Franklin County Arts Council and Wake County Economic Development.
"From the earliest stages, our goal has remained the same: to offer a vibrant hub for our residents to explore, grow and flourish," said Shannon McSwiney, marketing director, Newland Communities. "With so many milestones in just the first 16 months, we're excited to be able to see our vision come to fruition and continue to grow as a new-home destination in Wake County."
When complete, Wendell Falls is planned to include up to 4,000 single-family homes ranging from the high $190,000s to the $500,000s. Many of these award-winning designs will be featured in the upcoming 2016 Parade of Homes hosted by the Home Builders Association of Raleigh-Wake County. Wendell Falls also features EcoSelect certified homes and amenities complemented by approximately two million square feet of planned commercial-retail space, open spaces and public parks.
Wendell Falls is owned in a joint venture between NORTH AMERICA SEKISUI HOUSE LLC (NASH), the U.S. business unit and full subsidiary of SEKISUI HOUSE Ltd, Japan's largest homebuilder and leading diversified developer, and AMERICAN NEWLAND COMMUNITIES, LLC, whose development business, Newland Communities, is the master developer of Wendell Falls. Wendell Falls is one of more than 30 assets the NASH-Newland partnership owns or manages together in 12 states across the United States.
For information, visit www.wendellfalls.com or call 919-374-2105.Learn more about Wendell Falls at twitter.com/WendellFalls, facebook.com/wendellfalls and on Instagram at @WendellFallsNC. The Wendell Falls information center is located at 320 Vintage Point Lane, Wendell, NC 27591.
About Wendell Falls
Wendell Falls is a new-home community in Wendell, N.C. As the gateway between the rich agrarian heritage of the Coastal Plains and the growing prosperity of the Research Triangle, Wendell Falls offers an urbane way of life with 237 acres of parks and open space, 10 miles of trails and pathways, an outdoor pool and pier and future access to North Carolina's Mountain-to-Sea Trail. The community encourages friends and families to enjoy the culture of a traditional small town while benefitting from the Triangle's progressive quality of life, complemented by future on-site shopping and entertainment, and direct access to the heart of Raleigh-Durham. The Wendell Falls information center is located at 320 Vintage Point Lane, Wendell, NC 27591.
About Newland Real Estate Group, LLC
Newland is a diversified real estate company leveraging a national platform and over 45 years of experience to perform challenging and diverse development, investment, management, and advisory services across a wide range of real estate. The company's mixed-use development business, Newland Communities, actively owns, operates and develops premier residential master-planned, commercial, retail, and urban mixed-use real estate across the U.S. Headquartered in San Diego, Calif., Newland and its affiliated companies have completed, or have underway, more than 140 diverse real estate developments, more than 20 million square feet of commercial and retail space, and 175,000 residential units in 14 states. For more information, visit www.newlandcommunities.com.
About NORTH AMERICA SEKISUI HOUSE, LLC (NASH)
NASH was established in 2010 as the U.S. business operations unit and a full subsidiary of SEKISUI HOUSE, LTD., Japan's largest homebuilder and a leading diversified developer since 1960. SEKISUI HOUSE, LTD. has built more than two million houses and expanded its operations to Australia, China, Singapore, and the U.S. NASH establishes joint ventures to build innovative and sustainability conscious master planned communities and urban infill developments across the US. NASH is headquartered in Arlington, Va., and SEKISUI HOUSE is headquartered in Osaka, Japan. For more information, visit www.nashcommunities.com.