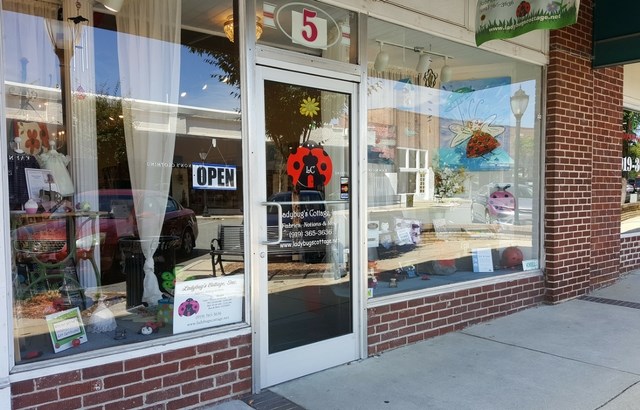 Discovering Downtown: Ladybug's Cottage
by Paige Rhinehalt
Upon walking in 5 North Main Street, you will instantly feel the down home, friendly atmosphere at Ladybug's Cottage. Newly relocated to historic downtown Wendell, Ladybug's is your one stop shop for 100% cotton fabric for apparel, quilting, and crafts. Along with a large selection of buttons, books, patterns, threads, and more, Ladybug's Cottage also offers classes and clubs to get involved. Encompassing Wendell's small town charm, they focus on friendly, personalized service and their small classes allow for each student to receive individual attention.So, whether you are a beginner or an advance sewer, bring your sewing machine or hand work to sit, sew, and visit awhile during classes and clubs! Visit their website for a class schedule or follow them on Facebook for all the latest happenings at Ladybug's Cottage.
So, who's behind this adorable downtown shop? Joyce Barrow. Joyce took her passion for sewing and opened Ladybug's Cottage, where she can teach, design, bond with the community, and continue to do what she loves. She came from a long line of seamstresses and has been sewing for most of her life. In her bio Joyce shares her story stating, "Many years ago, I received a brand new sewing machine as a gift shortly before graduation that is now not so new but still in daily use! I enjoy sewing and my sewing projects include garment construction, children's and doll clothes, stuffed animals, totes, purses, quilts and pillows. Since opening Ladybug's Cottage, I have designed quite a few patterns and enjoy teaching, sewing, and helping students create masterpieces of their own." Walking into the store you feel the love of sewing and can tell it's a place full of laughter and good times with friends and neighbors.

Meet all the ladies of Ladybug's Cottage here or stop by the store and see them! Open Tuesday-Thursday 10 am-6 pm; Friday 10 am-5 pm; Saturday 10 am-3 pm.