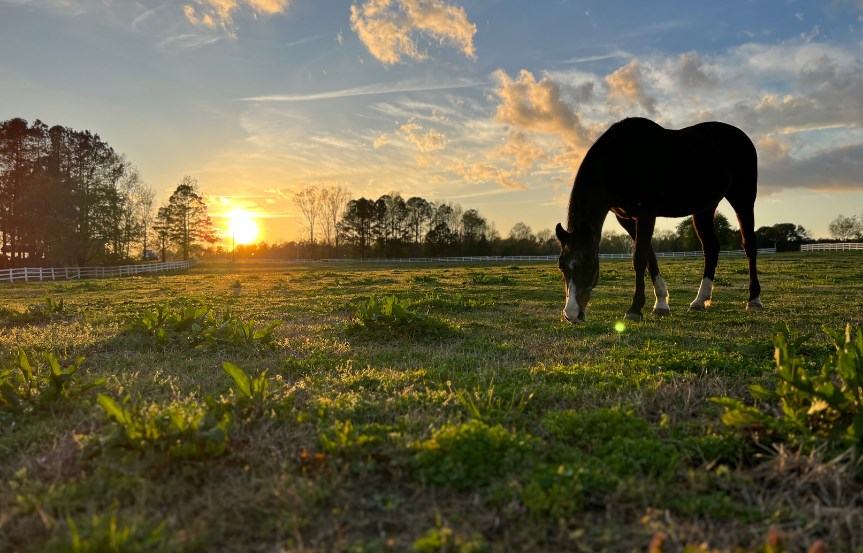 Saddle Up and Read Fun Day!
Caitlin Gooch, also known as "The Black Cowgirl," is a Wendell native and the founder of Saddle Up and Read, a non-profit organization started in 2016 to help raise literacy rates for children in North Carolina.
Saddle Up and Read
After realizing that her stories and photos of her family's horse farm captured the attention of the children she was working with in her time as an Education Coordinator, Gooch was inspired to combine reading and horses as a way to encourage youth to achieve literary excellence through equine activities.
She invited a group of children to visit her family's farm in Wendell, NC to meet the horses and read to them. Gooch realized that getting to read to the horses acted as a great incentive to keep the children engaged and knew that she could expand her impact, so she started Saddle Up and Read.
Now, Gooch organizes reading events with her horses at elementary schools, libraries, childcare centers, church youth groups and community spaces across the state.
Gooch also runs Happy Hooves 4-H Club in Wendell, which provides opportunities for youth ages five and up to learn about and connect with horses. Members participate in service projects, learn about horsemanship and develop leadership skills. Contact Gooch at happyhooves919@gmail.com to get involved.
Expanding representation of Black equestrians
While sharing her experience as a Black cowgirl with the children, Gooch realized that many of them did not know the history of Black equestrians in sports, and that there is a lack of representation for Black equestrians and diverse characters in books.
Knowing that children read more when they see themselves in the stories, Gooch made it a priority to have books that feature diverse and multicultural characters in Saddle Up and Read's library. She is also the author of Black Equestrian Coloring Book, a coloring book that tells the stories of Black equestrians.
Gooch also uses her social platforms, @theblackcowgirlnc on TikTok and @theblackcowgirl on Instagram, to teach others about Black Americans' contributions to horse culture and expand the knowledge of Black equestrians beyond Saddle Up and Read.
The Story Stables
Meet Caitlin Gooch and her miniature horse Man Man— co-hosts of The Story Stables. The Story Stables is a podcast created for early readers by North Carolina Public Radio. The show celebrates words and stories, bringing books to life with the help of sounds, music and the voices of children who read to Man Man the miniature horse.
Saddle Up and Read Fun Day
On April 15, Saddle Up and Read is hosting its first community event on the farm, located at 6400 Knightdale Eagle Rock Road, Wendell, NC 27591, from 11 a.m. to 4 p.m.
At Saddle Up and Read's Fun Day, you will have the opportunity to meet amazing horses, including the famous mini horse, Man Man. There will also be games, bounce houses and books galore!
If you would like to support Saddle Up and Read to help make its first community event a success, click here to sign up to volunteer to assist with parking, games, set up/clean up, donations, first aid and barn monitoring, or click here to donate.
Wendell Falls is located just 15 miles from downtown Raleigh, North Carolina, one of the fastest-growing metro areas in the U.S. Explore artfully crafted new homes and townhomes from the mid $300,000s – $900,000s+.