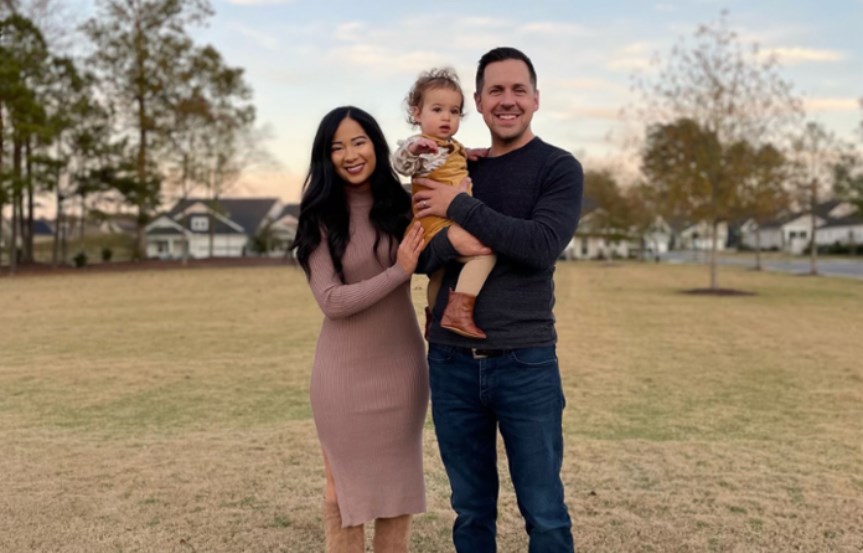 Resident Spotlight: Meet Kyle And Sarah
You've likely heard the voice of new Wendell Falls resident and co-host of the MIX 101.5 morning show. Now, meet Kyle and his wife, Sarah, a real estate agent for Berkshire Hathaway. They moved to Wendell Falls with their daughter Sofia three months ago after dreaming of joining the community for years.
Tell us your story! What brought you to Wendell Falls?
Wendell Falls is what we've been wanting for a long time. We moved to Raleigh in 2016 and looked at building in Wendell Falls a few years ago, but then COVID ended up delaying our move. Last year when we had our little girl, Sofia, we realized we wanted to be in community with residents that are at a similar point in life as we are, and we finally made the move to Wendell Falls a few months ago.
Tell us about hosting MIX Mornings! What made you get into radio hosting?
Honestly, it's been a lifelong passion of mine. My high school had a radio station for the students, so I got into it then and fell in love. Twelve years ago, I had a morning show in Indianapolis, and then it led me to Raleigh in 2016. Hosting the MIX 101.5 morning show has been a lot of fun. I feel so blessed to be able to wake up every single day and put a smile on people's faces.
What made you fall in love with Wendell Falls?
When we first visited, we fell in love the layout of the community. From the Farmhouse Café to amenities and conveniences, such as Publix, we were really impressed to see everything we need right here in the neighborhood. Especially with the pool, my wife and I feel like we're at a luxury resort. We also loved that there are a lot of young children and families in the community because we have a young daughter. We are excited to be in an area with others at a similar stage of life as us.
What was it like moving to Wendell Falls?
Since moving out here, the sense of community has been unmatched. Every single person we've met has had great things to say about Wendell Falls and have been super welcoming. It feels like there is a great support system here.
What has been your favorite activity/event in Wendell Falls so far?
A great thing about Wendell Falls is that it feels like you instantly have best friends who live all around you. I recently met a guy named Chris who invited me to join him on his golf cart in the Halloween parade, and I said, "Absolutely I need to be in a golf cart parade!" It was a lot of fun, and I realized that no community in the Triangle does Halloween better than Wendell Falls. Your kid is guaranteed at least a thousand pieces of candy when trick or treating in the neighborhood.
We've also enjoyed the Farmhouse Jams. We've only gotten to attend one show since we just recently moved in, but that night we started a dance party with a few ladies that we had never even met before. It was a lot of fun, and again, really showed us how friendly everyone in the community is.
What makes you excited to raise a family in Wendell Falls?
Well, we'll have tons of babysitters. But seriously, we love that there are people at the same life stage as us. It makes it easy to connect with other families with young kids or toddlers. Also, just the convenience of the community. We never really have to leave the neighborhood, and we've loved being able to go on walks with Sofia in her little red wagon. 
What would you tell someone who is considering moving to Wendell Falls?
What are you waiting for? Wendell Falls really has everything you could need from fantastic restaurants to easy walkability, outside events and an amazing pool, not to mention incredible people. You won't regret it.
 Ready to move in? Check out our available homes.
Wendell Falls is located just 15 miles from downtown Raleigh, North Carolina, one of the fastest-growing metro areas in the U.S. Explore artfully crafted new homes and townhomes from the mid $300,000s – $900,000s+.