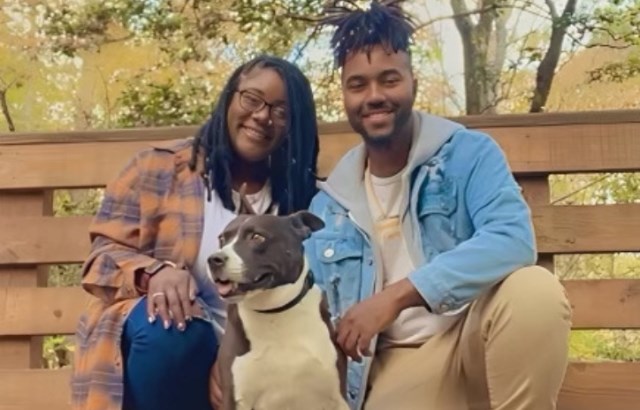 Resident Spotlight: Meet Phil and Charity
Tell us your story! What brought you to Wendell Falls?
My fiancé at the time (now wife), Charity, and I were looking to get out of Atlanta, and we have always loved the Raleigh area. We started looking online, and I came across Wendell Falls. Before we even had a chance to come and visit, I knew it was going to be the place for us.
What made you fall in love with Wendell Falls?
I was really impressed by the walkability of the community, especially with the commercial and retail that's planned. The ability to walk to dinner, drinks and services provides the convenience you would get from living in a city without the cost. I'm looking forward to the addition of The Collective, a retail, commercial and residential town center that will truly transform the area into a work, live and play destination for all of Eastern Wake County.
What was it like visiting Wendell Falls for the first time?
We were really impressed with the people and the amenities because everything was so nice and new. It really blew our minds. We stopped by the Farmhouse then spent the rest of the day looking at every house we could see. We knew at that point it was the right choice, and we agreed to a contract that same day.
What is your favorite thing about living in Wendell Falls
My favorite thing is definitely the trails and the walkability of the city without the prices. Being able to walk to the store or Farmhouse and not having to drive unless I'm going to work is a huge benefit. Even with all the growth, Wendell Falls has done a great job staying connected to nature with ample greenspace, trails and future connections to Greenways and Lake Myra Park. All these combined make Wendell Falls a no-brainer for us, and we are excited to start our family here. 
What would you tell someone who was considering moving to Wendell Falls?
With the variety of commercial spaces, home plans and amenities, there's something here for everybody. The community is the perfect mix of an active lifestyle while still being nice and quiet.
Read more resident testimonials here.
Wendell Falls is located just 15 miles from downtown Raleigh, North Carolina, one of the fastest-growing metro areas in the U.S. Explore artfully crafted new homes and townhomes from the mid $300,000s – $900,000s+.