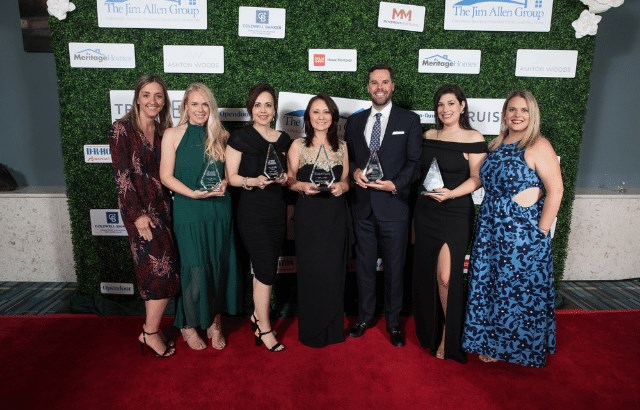 Wendell Falls Wins at 2022 MAME Awards
We are so excited to announce that Wendell Falls took home five awards at the 2022 Major Achievements in Marketing Excellence (MAME) Awards!
The annual MAME awards are hosted by the Homebuilders Associations of Raleigh – Wake County and Durham, Orange and Chatham Counties. At the MAME awards, The Homebuilders Association recognizes members' professional achievements in sales and marketing excellence. The MAME awards mirror the National Sales and Marketing Council's Awards and are considered the Academy Awards of new homes and sales marketing. 
We are proud to share that Wendell Falls was awarded the following:
Best Brochure for a Master Planned Community
Our community brochures have a fun design and several inserts available to make sure that it's personalized for each guest. Stop by the information center to receive a customized brochure for yourself!   
Best Use of Technology by a Master Planned Community
When announcing Treelight Square, a hub for living, shopping, eating, working, drinking and socializing, we conceptualized a video rendering to show our homeowners what to expect. The video showcased the numerous amenities available and highlighted the walkability of the rapidly growing community before the physical structures were even in place.
Best Lifestyle Program
We had to reimagine our lifestyle programs to meet COVID-19 restrictions and guidelines to ensure the safety of our residents. While maintaining precautions, such as limited attendance and outdoor venues, we kept our community connected by hosting approximately 100 virtual and in-person events, such as food trucks, parades, fitness classes and virtual classes.
Best Community Recreation Facility
Wendell Falls won Best Community Recreation Facility for Sunset Park, a strategically situated and elevated park that allows community members to get a stunning, unobstructed view of our beautiful sunsets! Sunset Park features an outdoor workstation with power outlets and comfortable furniture so residents can plug in for work or unplug and enjoy nature.
Development Company of the Year
Brookfield Properties won Development Company of the Year for our involvement in the home building industry and the success of our two North Carolina communities, Wendell Falls and Briar Chapel.
We would also like to congratulate our builders, Ashton Woods, Homes By Dickerson, Garman Homes   and Mattamy Homes, who took home multiple awards at this year's event.
View the full list of winners here.
---
Wendell Falls is located just 15 miles from downtown Raleigh, North Carolina, one of the fastest-growing metro areas in the U.S. Explore artfully crafted new homes and townhomes from the mid $300,000s – $900,000s+.