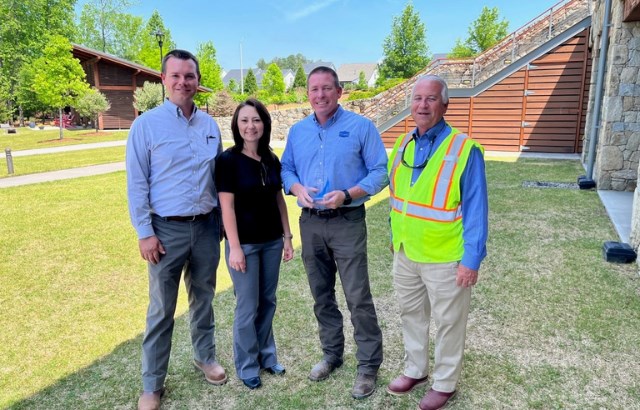 Construction Safety Week with Sanford Contractors!
Construction Safety Week
This week, May 2-6, we are celebrating safety! Construction Safety Week is an annual celebration that unites the North American Construction industry in building a stronger, safer industry and in creating a supportive environment for everyone. Brookfield is excited to participate in Construction Safety Week and recognize our commitment to keeping our team safe while celebrating the safety on our job sites and the work of our outstanding builders.
'Connected, Supported, Safe'
The theme of this year's Construction Safety Week is 'Connected, Supported, Safe,' which is all about working together as one team to create safer job sites. Connection gives us strength and means that we are not alone in creating a safe and supportive work environment for our teams. Being supported means that each of our team members have each other's backs and are provided the resources to deliver the best and safest job sites.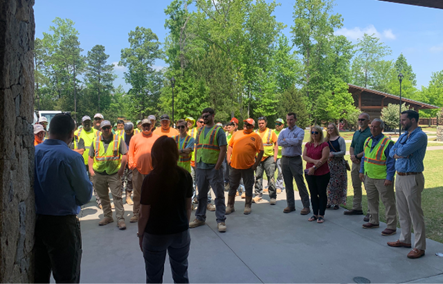 Outstanding Business Partner
As part of our celebration of Construction Safety Week, we held a vendor appreciation lunch where we presented Sanford Contractors with an Outstanding Business Partner award! This is the first Outstanding Business Partner award to be presented, and it was created to honor the amazing businesses we work with at Wendell Falls. Sanford Contractors is a family-owned and operated provider of construction services for commercial, residential, industrial, municipal and state projects. Sanford is Wendell Falls' site development, grading and utility contractor and has been completing work with Brookfield since 2009.
Sanford Contractors holds safety for its team members as a core principle that is the cornerstone of every decision and believes that safety and quality go hand in hand. Sanford encompasses this principle in every project and offers extensive, ongoing training to maintain the highest safety standards possible.
In a recent blog post, Sanford Contractors shared its four-part strategy for risk management, with proper planning, following protocols and recognizing and mitigating risks as the main keys to successful workplace safety. "Mistakes tend to happen when we are frustrated, distracted or in a hurry. In the construction industry, shortcuts are not our friend and can be very dangerous to ourselves and our fellow teammates," said General Counsel   Anna Lucas   and Development Director   Zac West.
We are so excited to show our gratitude to Sanford for a long, successful partnership and to celebrate our industry!
Wendell Falls is located just 15 miles from downtown Raleigh, North Carolina, one of the fastest-growing metro areas in the U.S. Explore artfully crafted new homes and townhomes from the mid $300,000s – $900,000s+.