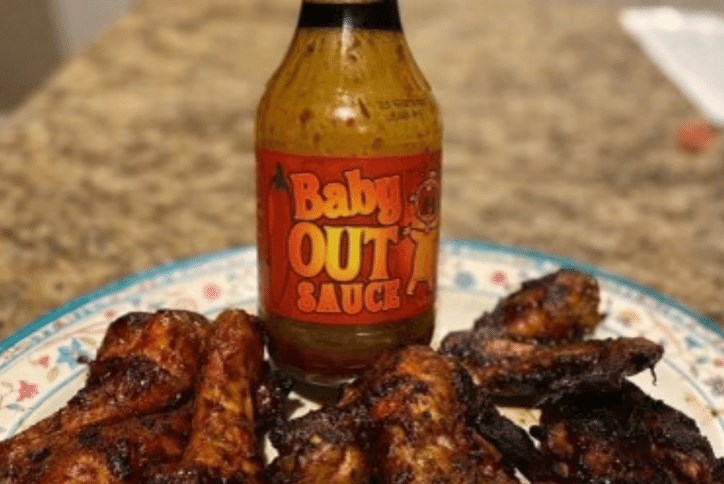 Discovering Wendell: Bo Bodenstine of Baby Out Sauce
In 2010, Bo Bodenstine's wife was nearing her due date and looking for a way to speed up the process. With Bodestine's culinary background, he knew just the trick. 21+ ingredients and a newborn baby later, Baby Out Sauce was born. 
"Get this baby out"
"My wife was pregnant with our first son, Owen, and I have a culinary background. She said, 'get in that kitchen and make a sauce to get this baby out.' I took more than 21 ingredients, including real honey, real maple syrup, real molasses, jalapeno and habanero and threw it all in a pot and let it cook. Then I got fried chicken tenders and tossed it in the sauce. She had the baby within seven hours. That's where the name 'Baby Out Sauce' came from," said Bodenstine.
Before Bodenstine knew it, word of mouth had travelled, and more expecting mothers were wanting to try Baby Out Sauce.
"Women would stop by my work or call me, and I'd say, 'give me a date and I'll make it for you.' I never charged anybody. Most women had their baby within 24-48 hours, but I never put a guarantee on it" said Bodenstine.
Before long, everyone wanted Baby Out Sauce
"I started getting phone calls from the women's husbands, family or friends that tried the sauce wanting me to make them another bottle. And I'd say, 'no, I only make it for pregnant ladies. Sorry,'" said Bodenstine.
Everybody who had gotten a taste of the sauce continued asking for it and encouraging Bodenstine to sell it, so when the pandemic hit, he decided to take the leap.
"I said, 'look, enough. People have told me to bottle it. I don't know if the world's about to end. I want to do my first run of this sauce,'" said Bodenstine.
A true NC business
After deciding to bottle and sell Baby Out Sauce, Bodenstine contacted Bobbee's Bottling in Youngsville to do the first run in August 2020 and found a local graphic designer to design the logo and promotional materials. Once Baby Out Sauce was perfected, Bodenstine sent bottles to his friends and family, launched the website and started pitching to stores in February 2020.
Now, Baby Out Sauce is available online and carried at more than 20 businesses in eastern NC, including NoFo at the pig, the local section at Lowes Foods and GrillBillies Barbecue.
Memorable milestones with Baby Out Sauce
Baby Out Sauce won first place for vinegar-based BBQ at the 2021 NC Hot Sauce Festival and second place for vinegar-based barbecue in the hot category at the 2022 National Scovie Awards.
Eat up
While definitely a hot sauce, Baby Out Sauce isn't too hot to handle and customers have turned down the heat by pairing the sauce with ranch or mixing it in with a tamer sauce. Baby Out Sauce has also been paired with a variety of dishes, including chicken wings, ribs, traditional New Year's Day meals and even breakfast.
"My parents keep it out. We do a lot of breakfasts where all the family comes together and we have the sauce with bagel sandwiches, breakfast sandwiches and breakfast tacos," said Bodenstine.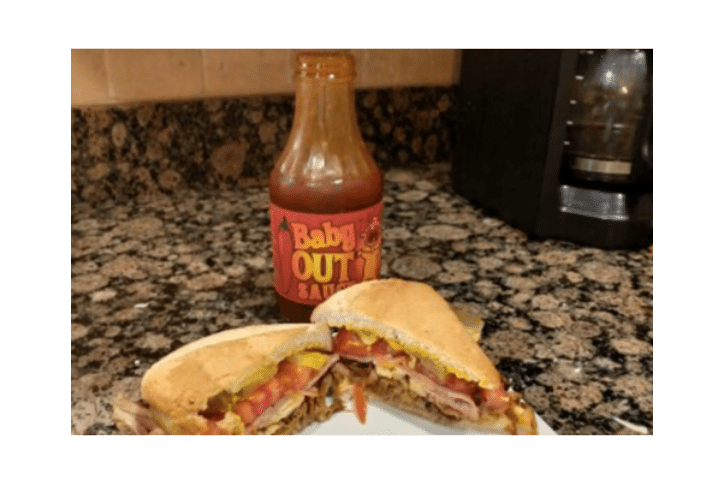 More than 21 ingredients later…
Since the beginning, Baby Out Sauce has been the same exact sauce Bodenstine made for his pregnant wife. In the future, Bodenstine hopes to add a sauce with the same ingredients, but without the heat.
"It's been nothing but a fun side project of cooking and sharing a sauce that all started with a pregnant woman. I'm just glad I took a risk. I didn't think I'd have this much success this quick," said Bodenstine.
---
Wendell Falls is located just 15 miles from downtown Raleigh, North Carolina, one of the fastest-growing metro areas in the U.S. Explore artfully crafted new homes and townhomes from the lower $300,000s – $900,000s+.