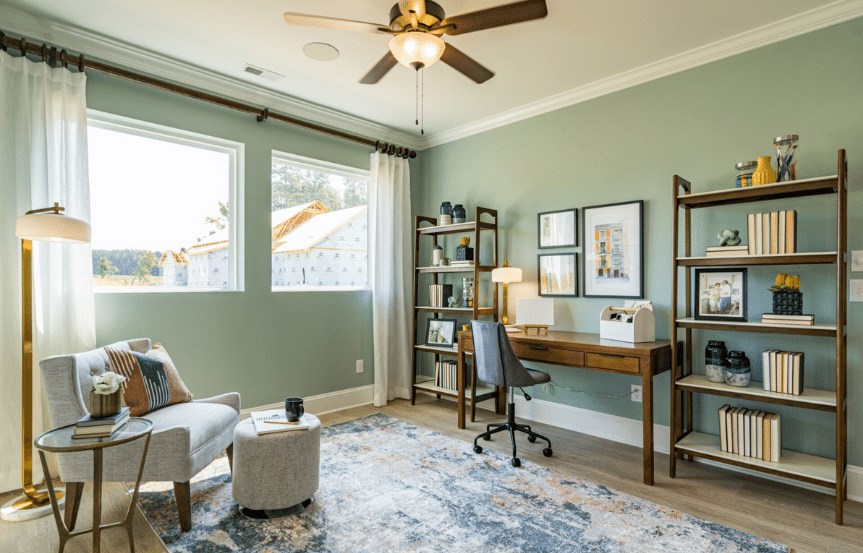 10 steps to create the ultimate home office
Staying comfortable, organized and focused can be hard when working from home but setting up your office space correctly can be a game changer. Here are our 10 steps to create the ultimate home office.
Find a dedicated space (preferably with a view)
When working from home, it is important to have a dedicated space so you can maintain focus and separate your home life and your work life. If possible, pick a space with a view to set up your home office.
Choose your desk location wisely
Did you know that extension cords, and even power strips, are not intended for long term use? Because of this, it is important to set up your desk close to an outlet.
Invest in the right desk
Since you'll likely be working at your desk for hours at a time, you'll want a comfortable setup. When typing on your computer, no matter if you are sitting or standing, your forearms should be parallel to the floor with your wrists flat at the keyboard. If you work primarily from your computer, you may want to invest in an adjustable desk.  Standing for part of your workday, in comparison to sitting all day, can reduce weight gain, lower blood sugar, lower your risk of heart disease and reduce back pain.
And the right chair
Your desk chair is another key component to creating a comfortable workspace. While working at your desk, your feet should be flat on the floor with your knees at a 90-degree angle, so you will need to determine the correct height for you or invest in an adjustable chair. When considering the size of chair you need, don't forget to make sure it fits well with your desk. You may also want to consider a chair that has ergonomic features, such as lumbar support or a memory foam seat cushion.
Computer support
Did you know that your computer screen should roughly arm's length away with your eye level being two to three inches below to top of the monitor to prevent back pain and eye damage? If positioned correctly your eyes will also slightly close as you read down your screen, decreasing dryness and fatigue. To accomplish this height, you will want to invest in a laptop stand or monitor mount.
Let in light
It's a proven fact that sunlight increases serotonin, giving you more energy and helping you stay focused. When selecting your office space, choose a room with windows and let in the natural light, but don't throw out your curtains just yet- you may need them if the sun is beating in your eyes or casting a glare on your computer screen. If your space does not have the best natural lighting, make sure there is enough artificial lighting. You may think the glow of your computer screen is enough, but darkness releases melatonin in the brain, signaling to the body that it's time to sleep, and viewing screens in the dark can strain your eyes. Add a traditional lamp to your desk, a floor lamp nearby or a lighting installation above. To minimize glare, look for lighting fixtures that emit a focused beam of light and shop for lightbulbs with lower wattages than those used for everyday household lighting.
Get Organized
Staying organized while working from home will allow you to be more efficient and focused. A good way to maintain organization is to keep things you use frequently within reach and house items where they are used. For example, don't store your go-to desk blanket in the living room or file away documents you reach for every day. If your desk does not have any storage, consider adding desktop storage solutions for documents you need to easily access. Store documents you don't access as frequently in storage baskets on bookshelves or in filing cabinets. If you don't have much desk or floor space, you may want to consider hanging floating shelves.
Purchase a printer
If printing documents is a common task for your job, you will want to invest in a printer. You may think that driving to staples to pick up a document is easy enough, but it can take a lot of time out of your day.
Personalize your space
Making your office space personalized to you and creating and environment you are excited to work in will make it easier to be motivated and focused when working from home. Make the space your own by hanging wall art, choosing office essentials that match your style or adding a rug to your space.
Add greenery
When working all day, it can be hard to find the time to get outside and connect with nature. Having plants in your office space brings a bit of life inside and lowers stress and anxiety, improves performance and focus, reduces fatigue and boosts creativity. Consider selecting plants that don't need to be cared for daily so you can escape from your home office permanently for the weekend.
Looking for a new home with the perfect office space? Check out our available home plans.
---
Wendell Falls is located just 15 miles from downtown Raleigh, North Carolina, one of the fastest-growing metro areas in the U.S. Explore artfully crafted new homes and townhomes from the lower $300,000s – $900,000s+.