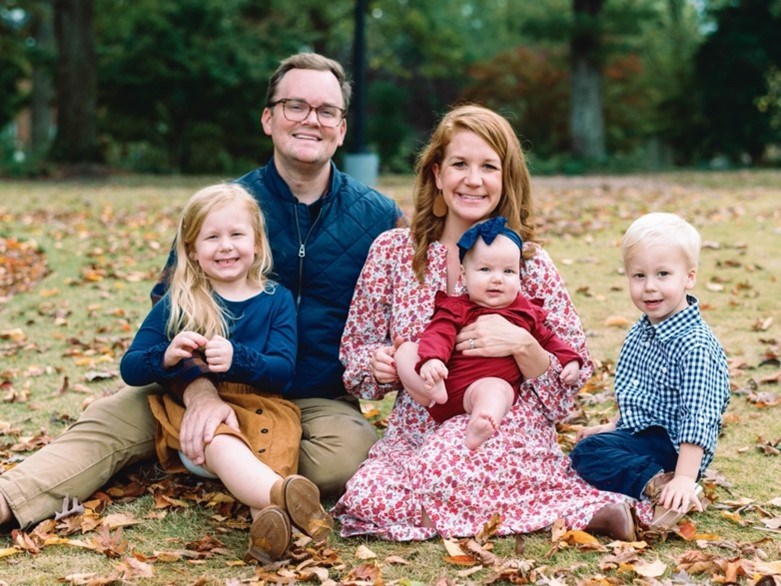 Resident Spotlight: Austin and Katie
You may have spotted Austin's sidewalk art throughout the community, or maybe you've taken family portraits with his wife, Katie, or perhaps Austin sold you your home here in Wendell Falls. Six years ago, Katie's mother suggested that she and Austin check out the houses in the Parade of Homes. After seeing Wendell Falls for themselves, they immediately fell in love.
What made you fall in love with Wendell Falls?
Even at the beginning, it felt like a tight-knit community. We were expecting our first child, so it was perfect timing. Katie never had the experience of living in a close-knit community, so that was important to us. There are always tons of kids in the neighborhood, and we love being able to take bike or scooter rides around the community. Even when we try to keep them short, we always end up running into somebody and chatting while our kids play. That's something we really cherish. 
What has it been like to see the community grow over the past six years?
We've made so many lifelong friends and seeing the community grow has been so exciting. I remember the day we found out we were getting a gas station. You'd think a gas station is just a small thing, but we were so excited to be able to gas without leaving the neighborhood.
And now, with the addition of the Publix, it's life-changing to not have to travel into Knightdale or Clayton for groceries. We are looking forward the new additions to Treelight Square, such as the restaurants. With everything right here in the community, we hardly ever had to go farther than Wendell Falls Parkway.
We heard you and Katie are both entrepreneurs. Tell us about your businesses!
I am a real estate agent full time. I love advocating for both buyers and sellers who are making a huge financial decision, and building rapport and trust is something I excel at. I have helped many families (including my own parents) move into our neighborhood and having been here for 6+ years allows me to have great insight into every aspect of Wendell Falls. My clients turn into friends fast, and that's what I love most about how I run my real estate business. I also have my own company, Austin Bagwell Creative, where I do hand-lettering for events and weddings.
Katie is the photographer/owner of Katie Bagwell Photography. She specializes in family, newborn and lifestyle photography. She started her business nearly 10 years ago, and it has spawned many friendships and dozens of repeat clients throughout the community. Both of us being independent business owners in such a supportive neighborhood full of creatives has been a blessing, allowing us to express our craft and passion while developing friendships.
We've seen your chalk art around the community, tell us about Austin Bagwell Creative and how you got into hand-lettering!
Katie and I got married in 2013 at The Stockroom at 230. I've always had a passion for art, so she wanted me to create a welcome sign for our wedding. A $20 mirror from Goodwill, some chalkboard paint and Crayola chalk later - I created my first chalkboard - not knowing it would turn into what it did. Fast forward a couple years later, after doing some wedding signage for others here and there, our wedding planner asked me to do a large-scale mural on, you guessed it - The Stockroom at 230's new 12-foot-tall chalk wall that had been installed at their venue. I, of course, agreed and from that moment, the snowball started to grow. Nearly 250 + boards/murals later, I am there nearly every weekend. 
During the pandemic, I shifted that creative passion to the neighborhood through sidewalk chalk art. I started doing hopscotch designs, holiday decorations, birthday designs and anniversary celebrations for neighbors throughout the community. It was a fun time in the neighborhood.
What would you tell someone who is considering moving to Wendell Falls?
Do it. I know people may think it's too far away, but I can get to Downtown Raleigh in 15-20 minutes tops and North Hills in less than that. The community is so well-planned, and there's so much to do here. Above all, if you want a sense of community and to love your neighbors, Wendell Falls is for you. I would recommend it to anybody.
Ready to move in? Check out our available homes! 
To book services with Austin Bagwell Creative, contact austinbcreative@gmail.com, and to book a photography session with Katie, call 919-426-6359.
Wendell Falls is located just 15 miles from downtown Raleigh, North Carolina, one of the fastest-growing metro areas in the U.S. Explore artfully crafted new homes and townhomes from the mid $300,000s – $900,000s+.