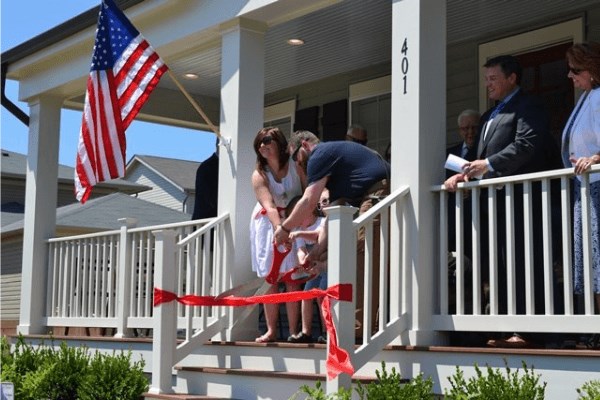 How Newland Gives Back
As a Newland community, the notion of giving back is deeply ingrained in all that Wendell Falls does. Wendell Falls frequently holds clothing and blood drives, and other community-targeted opportunities. 
As a nationwide developer, Newland initiates charitable efforts all across the country. Continue reading to hear about what other Newland communities do to give back below. 
Fighting hunger
Newland's Waterset community in Florida partners with Feeding Tampa Bay to rally the community to end hunger and create a healthier, more capable Tampa Bay area where neighbors help neighbors. The community hosted a series of concerts aimed at collecting nonperishable food items to donate to Feeding Tampa Bay.  
In South Carolina, Nexton supports the Lowcountry Food Bank and helps fight hunger by distributing food to seniors, veterans and children through various outreach programs.
Community outreach
In Washington, Eagle Ridge held a Community for K-9's Day  to raise money for a new kennel facility for the local K-9 unit. Attendees could meet the police dogs, participate in a silent auction and participate in other fun things to help support the local furry friends. 
Elyson in Texas worked closely with community members who were impacted by Hurricane Harvey. Elyson donated 25 Christmas trees to the organization Trees of Hope for Katy to make sure that families impacted by the hurricane still received holiday cheer. 
At Briar Chapel in Chapel Hill, NC, the community has provided land for two new schools and more than 62 acres of green space for Chatham County's civic use.
Military support
In Virgina, Embrey Mill partnered with nonprofit organization Operation Finally Home to provide a mortgage-free home to a military family. Embrey Mill held a ribbon cutting ceremony to celebrate the newest addition to the community. 
On Veterans Day 2020, Wendell Falls along with Garman Homes, the HBA of Raleigh-Wake County, the U.S. Veterans Corps and Operation: Coming Home honored the legacy of SFC Elis A. Barreto when it unveiled a "Hero Home" to the family of SFC Barreto, who died in combat in September 2019. Newland donated the homesite to the family.
Wendell Falls is proud to be part of a Newland community where the spirit of giving back and making a difference is strong. If you're looking for a home in the type of place that strives to make the surrounding community stronger, consider Wendell Falls.
Check out available homes or read resident stories to get a better picture of what the community is all about. 
---
Wendell Falls is located just 15 miles from downtown Raleigh, North Carolina, one of the fastest-growing metro areas in the U.S. Explore artfully crafted new homes and townhomes from the mid $200,000s – $700,000s+.