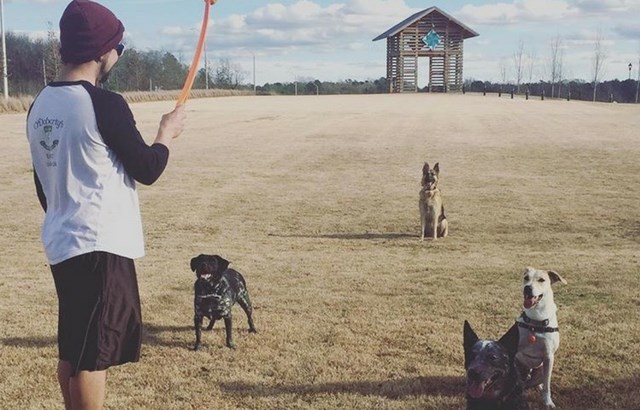 Why Dogs Love Wendell Falls
Pets are part of our families—and if you take a look around Wendell Falls, it is obvious that our residents love their four-legged friends! Any time of the day, you will find pups of all shapes and sizes taking a stroll with their owners around the neighborhood. That's why we made sure to keep pets top of mind when planning the amenities throughout the community. Below are some of the top dog-friendly spots in Wendell Falls you should check out next time you visit!
Festival Lawn
The Festival Lawn is just outside the Farmhouse and a great space to throw a ball around or play fetch. The expansive greenspace gives energetic dogs room to play or throw a ball around.  Best of all, it is right next to the Farmhouse Café, so you can grab a cup of coffee and relax on the outdoor patio when you need a break.
Community Trails
Wendell Falls has miles of trails waiting to be explored by you and your pup. Whether you prefer a morning walk, an evening stroll, or a long run—there are always new sights and paths to be found.
Wendell Paws Dog Park
You didn't think we would forget a park just for dogs, did you?! With both small and large dog sections, this is a great place to meet new friends and practice social skills.
Are you looking for more space for you and your pup? Check out our available homes here.