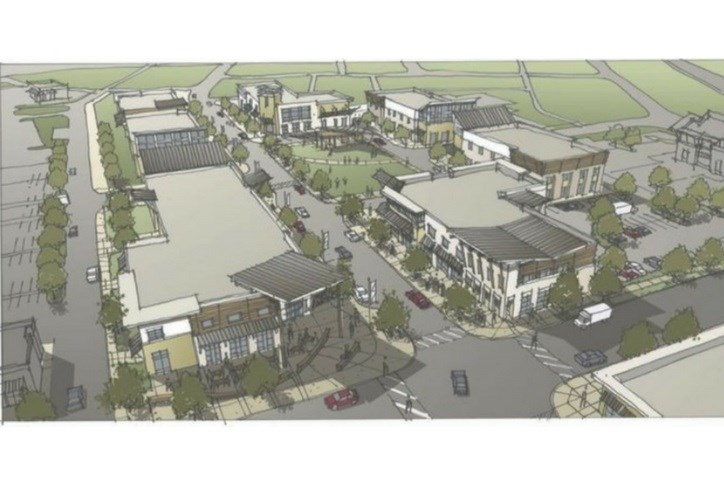 Wendell Falls clears way for 2M square feet of commercial
Ben Graham, Triangle Business Journal
January 23, 2018
The Wendell Falls master-planned community, just outside of its namesake town in eastern Wake County, is still just a shadow of what it could be in the future.
Open fields and mounds of dirt still make up much of the 1,100-acre property. Neat rows of single-family homes have cropped up, but only a little more than 400 of the
potential 4,000 have been built thus far.
All that could change soon.
Construction is underway on the commercial phase of the Wendell Falls community, and plans are in the works for even larger development in the near future. Crews have begun work on a Cruizers convenience store at the development, being built by real estate developer Newland Communities. In March, a new childcare center will go vertical. But the bigger news is what lies just beyond the horizon. The Newland team behind the master-planned community is laying the groundwork for a grocery store, a medical facility and restaurant and retail space. All told, the commercial component of the project will total 2 million square feet.
There is even space for a corporate headquarters office complex, something that could help draw companies to the other side of Wake County. "This east side has been
overlooked," says Dan Klausner, Newland's director of commercial real estate.
An 11-acre parcel has been prepped for a 100,000-square-foot medical facility, and one of the pads is in the final stages of negotiations with a tenant. Another 50-acre parcel is being graded to make way for retail space, restaurants and a new, higher-end grocery store. Work on the commercial side of the development comes at the same time that the developers are making headway on the residential component. More than 380 homes
have been sold to-date, while another 680 lots are ready for construction. The work represents a significant about-face for the project, which was in limbo for
years until Newland scooped it up in 2013 for $34 million. Development of the community had been suspended in 2008, after the original developer, Burroughs &
Chapin, defaulted on a Wells Fargo loan. The bank foreclosed on the land two years later. When its complete, Wendell Falls could double or even triple the population of the town of Wendell, which had 6,745 residents in 2016, according to the U.S. Census Bureau.
And it could get even bigger. Those behind the development have talked about luring a larger company to relocate to Wendell Falls. The corporate headquarters site is 50 acres and could accommodate up to 6 million square feet. That would require getting additional approval from the town, but the potential is there, Klausner says.
Newland has offices in cities across the U.S. and also is responsible for building Briar Chapel in Chapel Hill.
To see the original article, click here.