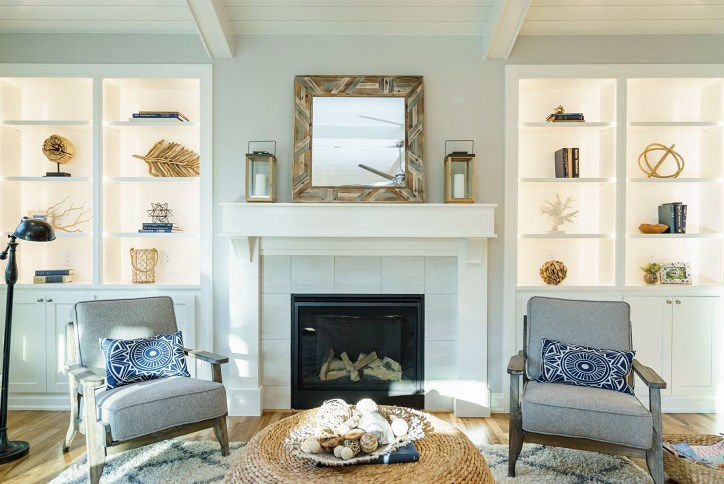 Newland Communities Tops Charts in 2017 Parade of Homes
Cherith Andes
Clairemont Communications
TRIANGLE, N.C. - October 16, 2017 - Briar Chapel and Wendell Falls, master-planned communities by Newland Communities, secured 12 awards in the 2017 Parade of Homes, leading central North Carolina as the developer with the highest number of entries in the Parade.
"Our homebuilders push the envelope in innovative design and home functionality," said Shannon McSwiney, marketing director, Newland Communities. "Each year they transform new, unexpected spaces into functional, aesthetic living areas, consistently raising the standard of design in the Carolinas."
Builders in Briar Chapel, located in Chapel Hill, North Carolina, showcased nine sustainably constructed homes by Garman Homes, Homes By Dickerson, Terramor Homes, Saussy Burbank, David Weekley Homes and Encore by David Weekley Homes. Wendell Falls, situated in Wendell, North Carolina, featured four homes on the Parade from Garman Homes, Homes By Dickerson and Capitol City Homes.
Together, Briar Chapel and Wendell Falls secured a total of 12 awards in the Triangle Parade of Homes:
"We're always pleased to partner with Newland Communities in our annual Parade of Homes," said Holly Fraccaro, CEO, HBA of Durham, Orange and Chatham Counties. "Newland stands above other developers in its unwavering commitment to rigorous National Green Building Standards, and its distinct, innovative designs enrich the quality of home offerings in North Carolina."
Hosted in October 2017 by the Home Builders Associations of Wake County and Durham, Orange and Chatham Counties, the Triangle Parade of Homes is North Carolina's largest open house and provides guests a self-guided tour experience across central North Carolina.
About Briar Chapel
Briar Chapel is a new-home community in Chapel Hill, N.C. As one of the largest green communities in the Triangle, Briar Chapel offers a healthier way of life through 900 acres of preserved space, 24 miles of hiking and biking trails, two community gardens, and more than 20 parks. Briar Chapel fosters neighbor interactions through its design and amenities, including the LEED Silver certified Briar Club, pools and a waterpark, fitness facilities, outdoor art and two on-site schools. The Briar Chapel Information Center is located at 1342 Briar Chapel Parkway, Chapel Hill, NC 27516. Learn more about Briar Chapel twitter.com/BriarChapel and facebook.com/BriarChapelNC. For more information visit www.briarchapelnc.com or call 888-249-9429.
About Wendell Falls
Wendell Falls is a new-home community in Wendell, N.C. As the gateway between the rich agrarian heritage of the Coastal Plains and the growing prosperity of the Research Triangle, Wendell Falls offers an urbane way of life with 237 acres of parks and open space, 10 miles of trails and pathways, an outdoor pool and pier and future access to North Carolina's Mountain-to-Sea Trail. The community encourages friends and families to enjoy the culture of a traditional small town while benefitting from the Triangle's progressive quality of life, complemented by future on-site shopping and entertainment, and direct access to the heart of Raleigh-Durham. The Wendell Falls information center is located at 320 Vintage Point Lane, Wendell, NC 27591.
About Newland Real Estate Group, LLC
Newland is a diversified real estate company leveraging a national platform and over 40 years of experience to perform challenging and diverse development, investment, management, and advisory services across a wide range of real estate. The company's mixed-use development business, Newland Communities, actively owns, operates and develops premier residential master-planned, commercial, retail, and urban mixed-use real estate across the U.S. Headquartered in San Diego, Calif., Newland and its affiliated companies have completed, or have underway, more than 140 diverse real estate developments, more than 20 million square feet of commercial and retail space, and 175,000 residential units in 14 states. For more information, visit www.newlandcommunities.com.
About NORTH AMERICA SEKISUI HOUSE, LLC (NASH)
NASH was established in 2010 as the U.S. business operations unit and a full subsidiary of SEKISUI HOUSE, LTD., Japan's largest homebuilder and a leading diversified developer since 1960. SEKISUI HOUSE, LTD. has built more than two million houses to date and expanded its operations to Australia, China, Singapore, and the U.S. NASH establishes joint ventures to build innovative and sustainability conscious master planned communities across the US. NASH is headquartered in Arlington, Va., and SEKISUI HOUSE is headquartered in Osaka, Japan. For more information, visit www.nashcommunities.com.