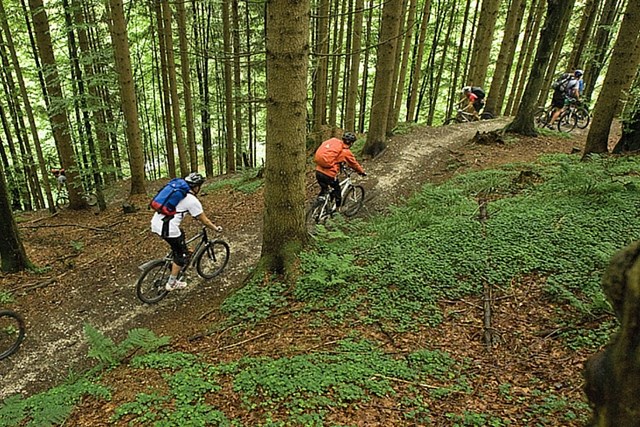 Connecting With Our Mountain Biking Trails!
Cali Buhrman
Marketing Coordinator
If you follow us on social media (@wendellfallsnc), then you have probably heard the buzz lately about the addition to our trails!
Mountain biking trails are an obvious choice to add to the already extensive amenity offering we have at Wendell Falls. The connectivity and outdoor recreation these trails bring not only resonate with our own values, but also offer another way for families, friends, and neighbors of all ages to come together. However, this was no easy task, because we knew these trails needed to be as special and unique as the rest of Wendell Falls—We had to have the best!
Enter, the guys at Avid Trails.
Avid Trails is a trail design and building company founded by Troy Duffin, one of the nations' most experienced trail builders. Their mission is "To increase connectivity, encourage movement, improve health and promote well-being through thoughtfully designed and responsibly constructed trail systems. To get people outside to have fun, get fit, and be happy."
After three grueling weeks of work by the Avid team, we now have about 3.25 miles of completed mountain biking trails. The team was extremely thoughtful in making sure there were beginner, intermediate, and advanced levels of grading done so that all experience levels would be included. The new trails connect all current phases of our community, and wind through towering pine trees, Rocky Falls, and the other 10 miles of walkable pathways found in the neighborhood. (You heard me right – miles!).
The guys at Avid Trails put so much hard work and sweat into this amenity, and we could not thank them enough (plus we had so much fun seeing them every day!). We hope our residents and friends will come to the community to get a little fitness in, soak up the sun, and connect with each other, the Wendell Falls way!
Take a look at some of the progress pictures we captured, found below.
Also, join us and members from Triangle Off-Road Cyclists (TORC) for a grand opening Race/Ride/Skills event on April 9th. For more details, click here.