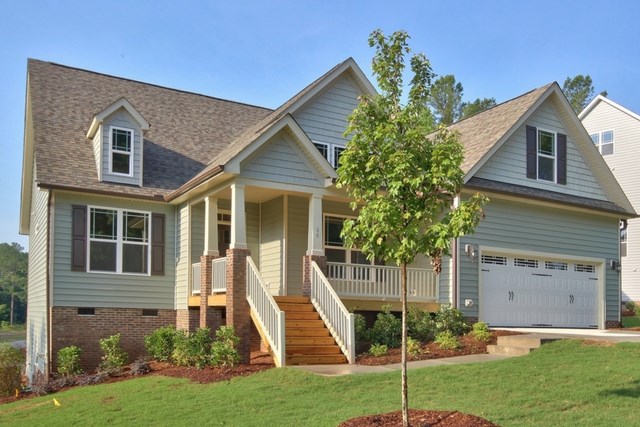 Wendell Falls Welcomes New Builder, Capitol City Homes
Cherith Mangum
Clairemont Communications
Wendell Falls Welcomes New Builder, Capitol City Homes
– Single-Family Homes to Feature Custom Cabinetry, Open Floor Plans –  
WENDELL, N.C. – February 14, 2017 – Wendell Falls, the Triangle's largest new-home community, adds Capitol City Homes to its list of award-winning builders. Capitol City Homes will debut single-family houses priced from $230,000s that showcase the latest features and trends in the market.
"Capitol City Homes offers a personalized experience that today's home shoppers seek and value," said Shannon McSwiney, marketing director, Newland Communities. "We are pleased that they have joined our dynamic builder team, and we look forward to showcasing the expanded home offerings to complement the desirable lifestyle found in Wendell Falls today."
Capitol City Homes will design each kitchen with a farmhouse sink and offer a brand new custom cabinetry color called Capitol Blue for all homes it builds in Wendell Falls. Ranging from 1,800 to 2,300 square feet, floor plans will provide a variety of layout options that will include first- or second-floor master suites, spacious bonus rooms and screened porches.
"We make the dream of owning your own home affordable and attainable; it's about ensuring an experience that matches the workmanship and details we build into each of our homes," said Yosra Elsayed, selection and design manager, Capitol City Homes.
Homes will be available for contract starting February 25, 2017, and model homes will be open for tours starting in March. For information, visit www.wendellfalls.com or call 919-374-2105. Learn more about Wendell Falls at twitter.com/WendellFalls, facebook.com/wendellfalls and on Instagram at @WendellFallsNC. The Wendell Falls information center is located at 320 Vintage Point Lane, Wendell, NC 27591.           
About Wendell Falls
Wendell Falls is a new-home community in Wendell, N.C. As the gateway between the rich agrarian heritage of the Coastal Plains and the growing prosperity of the Research Triangle, Wendell Falls offers an urbane way of life with 237 acres of parks and open space, 10 miles of trails and pathways, an outdoor pool and pier and future access to North Carolina's Mountain-to-Sea Trail. The community encourages friends and families to enjoy the culture of a traditional small town while benefiting from the Triangle's progressive quality of life, complemented by future on-site shopping and entertainment, and direct access to the heart of Raleigh-Durham. The Wendell Falls information center is located at 320 Vintage Point Lane, Wendell, NC 27591.
About Newland Real Estate Group, LLC
Newland is a diversified real estate company leveraging a national platform and over 45 years of experience to perform challenging and diverse development, investment, management, and advisory services across a wide range of real estate. The company's mixed-use development business, Newland Communities, actively owns, operates and develops premier residential master-planned, commercial, retail, and urban mixed-use real estate across the U.S. Headquartered in San Diego, Calif., Newland and its affiliated companies have completed, or have underway, more than 140 diverse real estate developments, more than 20 million square feet of commercial and retail space, and 175,000 residential units in 14 states. For more information, visit www.newlandcommunities.com.
About NORTH AMERICA SEKISUI HOUSE, LLC (NASH)
NASH was established in 2010 as the U.S. business operations unit and a full subsidiary of SEKISUI HOUSE, LTD., Japan's largest homebuilder and a leading diversified developer since 1960. SEKISUI HOUSE, LTD. has built more than two million houses and expanded its operations to Australia, China, Singapore, and the U.S. NASH establishes joint ventures to build innovative and sustainability conscious master planned communities and urban infill developments across the US. NASH is headquartered in Arlington, Va., and SEKISUI HOUSE is headquartered in Osaka, Japan. For more information, visit www.nashcommunities.com.
About Capitol City Homes
Capitol City Homes, LLC is headquartered in Raleigh, North Carolina and builds new homes in Raleigh, Wake Forest, Clayton, Chapel Hill and Pittsboro, NC. Founded by Triangle area construction professionals with more than 50 years of home building experience, we have built award-winning, high performance new homes since 2009.