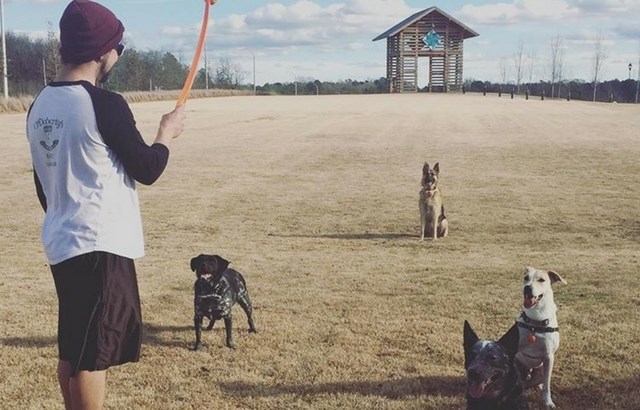 5 Reasons Dogs Love Wendell Falls
by Jessica Collins
Customer Relations
There's a lot to love about Wendell Falls… even for our furriest residents!  Here, are 5 reasons your pets love to call Wendell Falls home:
Front Porch Livin'! Many of our resident pups enjoy relaxing in the porch shade!
Playing Fetch on the Festival Lawn – One of the favorite gathering places for Wendell Falls' canine companions is the Festival Lawn! Dogs can play catch and run around, while also enjoying the liveliness and activity happening by the Farmhouse.
Grounds Café's Patio - Our four-legged friends love that they can bask in the sun or stay cool in the shade at Grounds Café. You'll find bowls of water for them, a place to hook their leash, and treats for them to enjoy. Just as you might come to the café to hang out and unwind, your dog can too!
Run Club – A great way for our athletic furry residents to get in their exercise? Run Club!  Your pup can join you for a run and then cool off at Grounds Café patio while you enjoy a pint (or a glass of water).
Trails – A favorite part of any Wendell Falls resident's day? A walk around the community on over 10 miles of trails and pathways. From sidewalks to rugged pathways, there's a trail for each dog's preference!
We did say 5 reasons… But there's something extra special for your best friend on the way! (*Hint* There's a new park coming late Summer 2017… and it's not for humans!)
To see furry residents loving Wendell Falls, check out #wendellpaws on Instagram.