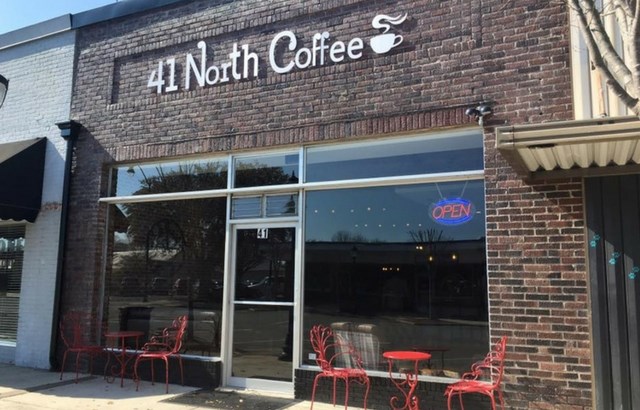 New to Downtown Wendell... 41 North Coffee!
By: Elyse Phillips

The much anticipated 41 North Coffee shop is now open! It's the perfect place to grab a sweet treat, your favorite coffee beverage, or a protein smoothie while you get a little work done or catch up with a friend.

When you walk in, you just get the feeling you want to sit down and stay a while—I attribute that feeling to the rustic and charming interior… including large wildlife paintings, rich dark colors, and plush leather seating. But if you're on the go-- no problem! 41 North will put a coffee in your hand so you can head out to run errands or shop at other downtown Wendell destinations.

Head across the street and grab made-from-scratch deliciousness from Brown Bag Bagels, shop the latest fashion at Bella Mar boutique, stop by 1903 to do a little gift shopping, or head to Red Door Furniture to find refurbished old charm for your home. Downtown shopping just seems to be a little more pleasurable with coffee in hand! :)

Follow them on Facebook/Instagram to stay up to date and more importantly, stop by and order your favorite coffee beverage before strolling through beautiful downtown Wendell!