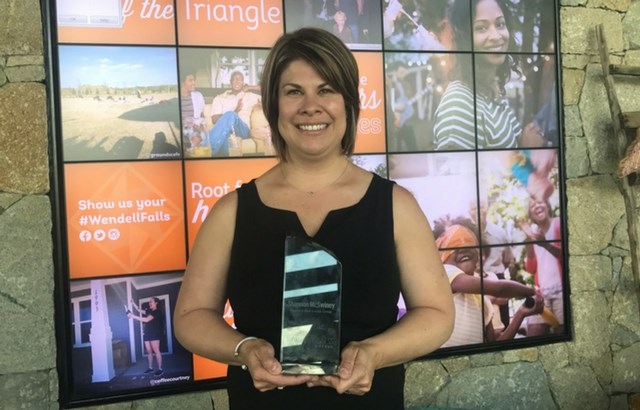 Shannon McSwiney Lands Women in Business Award
Light the candles, hang the party banners and pop the cork! We're excited to congratulate Shannon McSwiney, our director of marketing, who just landed a Triangle's 2017 Women in Business Award! This accolade recognizes accomplished and outstanding leaders in the Triangle renowned for industry innovation, community involvement, thought leadership and dynamic change. The panel of judges, comprised of some of the Triangle's top business personnel, selected Shannon from approximately 100 other nominees. 
Shannon spearheads Newland's growth in the Carolinas, overseeing Wendell Falls, Briar Chapel in Chapel Hill and RiverLights in Wilmington. Through her dynamic leadership, creative strategy and strong community relationships, she helped to shape Wendell Falls into the warm, welcoming place that we love to call home. Other fun facts? Shannon is a mom of two beautiful children, a former tap dancer and knows the words to almost every popular 80s song!
Join us in celebrating with Shannon! For a few more details, the feature in the Triangle Business Journal captured it best:
TBJ reveals 2017 class of Women in Business Awards winners 
This year's winners will be recognized at an awards luncheon April 21 at Raleigh Marriott Crabtree Valley. The event begins at 11:30 a.m. and is scheduled to end around 1:30 p.m.
The Women in Business Awards program recognizes Triangle women who have proven to be dynamic and outstanding leaders with established track records of significant accomplishments in business and/or community service. The judges, a mixture of Triangle business leaders and TBJ editorial leadership, pored through about 100 entries to come up with this year's crop of winners.
"The 2017 class of Women in Business Awards winners represents a vast array of knowledge and influence that spans across the entire Triangle and beyond," says TBJ Publisher Jason Christie. "We are extremely excited to be able to honor these successful women."