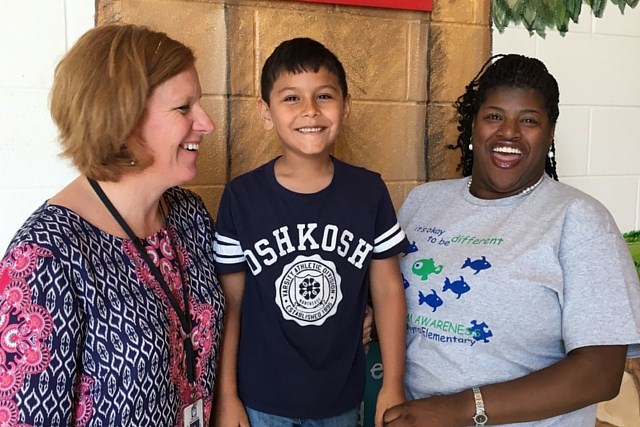 Beyond the Books: Moises
Cherith Mangum
Clairemont Communications
Lake Myra Elementary
Moises Godoy, 1st Grade
Strong and Brave


Kindergarten was not the exciting adventure that Moises had imagined. The crowds of new people and looming halls quickly transformed his eager anticipation into dread. His trepidation and introversion quickly translated into the classroom and hampered his ability to learn.
But at Lake Myra Elementary, Moises wasn't alone. The staff immediately recognized his agitation and huddled together to formulate a secret plan.
Five teachers positioned themselves at different points throughout Moises' morning route between the bus and his classroom. The P.E. instructor always asked about Moises' morning, while the math teacher always gave him a high five. And right before his classroom door, Principal Tina Zarzecki stopped Moises to tell him the same phrase each morning:
"Moises, you are strong, and you are brave. Don't ever forget that," Mrs. Zarsecki said.
Gradually, Moises began to believe these words. His confidence grew. His panic subsided. He began to ask questions in class and show interest in his friends. But most importantly, Moises began to smile.
"I used to be scared, but I'm not anymore," said Moises. "I love my friends. I love it here!"
Now, a bright-eyed and sunny first-grade student, Moises has adopted a new life mantra. When Mrs. Zarzecki asks him who he is, his enthusiastic response is always, "I am strong, and I am brave!"
Wendell schools are committed to developing well-rounded students by unlocking their potential with innovative programs beyond the standard curriculum.  In this blog series, we'll share some of the exciting transformations, intriguing journeys and heart-warming successes celebrated by students and teachers across eastern Wake County.