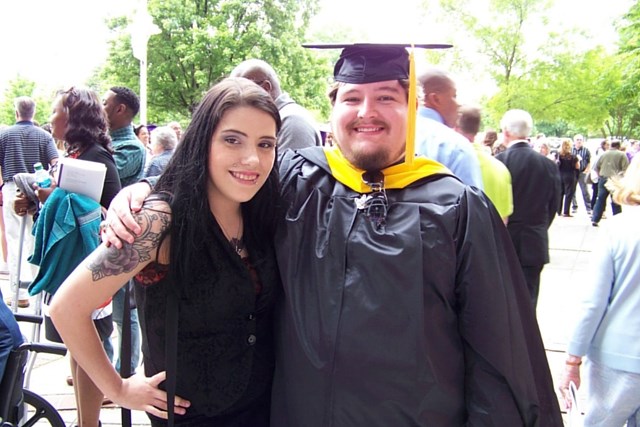 Beyond the Books: Melissa
Cherith Mangum
Clairemont Communications
East Wake Academy
Melissa Holloman
The Extra Mile(s)

Melissa was the only member of her family to letter in a sport—an accolade that seemed natural since her father was a football coach. But Melissa's shining athletic accomplishment wasn't easily won. Since her toddler years, she spent the majority of her days and nights in the hospital after being diagnosed with cystic fibrosis.
The piles of pending literature assignments, history reading and algebra equations seemed relentless. For Melissa, long car rides to the hospital were followed by long afternoons tackling the growing list of schoolwork. Caught between her health challenges and rigorous academic demands, Melissa never dreamed she would have the energy – or time – to play a sport.
But, like Superman, heroes often wear street clothes. And a group of passionate advocates, Melissa's own teachers at East Wake Academy, rallied around this determined young student to help change her future.
"Melissa's teachers refused to concentrate on her limitations," said Chris Holloman, Melissa's dad and a teacher at East Wake Academy. "They bonded together like a family and focused on her potential, her future and the incredible possibilities that she could pursue."
Teachers sent work schedules and assignments with Melissa's dad to the hospital. They offered special tutoring sessions or flexible timelines and continually asked, "How can we help you get caught up?" And when Melissa announced that she wanted to play volleyball, her teacher allowed her to take P.E. for several semesters to increase her physical strength.
"The teachers at East Wake Academy gave Melissa every opportunity to succeed," said Chris. "They provided support above and beyond what was expected, a commitment that empowered Melissa to achieve so much more than we dreamed."
Because of her teachers' vibrant, unwavering encouragement, Melissa refused to throw in the towel. She saw that others believed in her potential from her kindergarten year to her graduation day, and she exceeded the limitations of her medical condition. Ongoing P.E. classes led to regular running, a spot on the volleyball team and eventually the physical strength to attend college on her own. Melissa plans to graduate in the fall of 2016 from East Carolina University with a degree in English.
It's amazing what determined students can accomplish when they're backed by an encouraging band of heroes.
Wendell schools are committed to developing well-rounded students by unlocking their potential with innovative programs beyond the standard curriculum.  In this blog series, we'll share some of the exciting transformations, intriguing journeys and heart-warming successes celebrated by students and teachers across eastern Wake County.