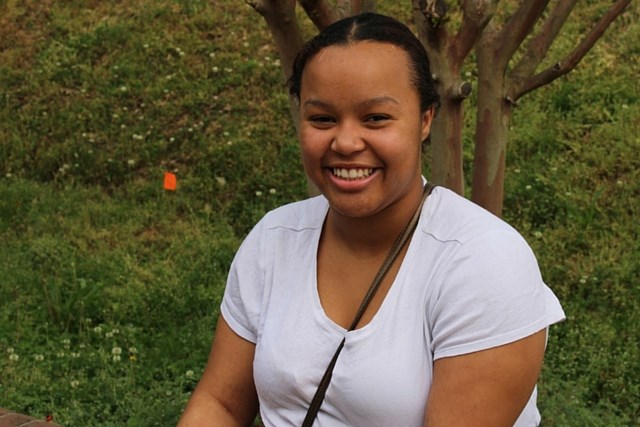 Beyond the Books: Skylan
Cherith Mangum
Clairemont Communications
East Wake High School
Skylan Wiggins, 9th Grade
Tragedy to Triumph  
Opening your eyes for the first time in a hospital bed is petrifying for anyone but even more so when you have a life change around the corner. Imagine yourself as a middle school student preparing to enter high school. Problems like making friends and school lunches seem trivial when you may not even be able to walk to class unassisted.
In 2013, Skylan Wiggins suffered a traumatic accident that put her in a coma for months. Complications from her accident have now left her partially wheelchair bound. So naturally Skylan was nervous about how she would be treated by her peers and teachers as a new student at East Wake High School.
On her first day, Skylan was amazed to discover a welcoming, warm atmosphere at East Wake. The teachers were patient and wholeheartedly wanted to see her succeed in her education. Her peers didn't stereotype her but rather offered her encouragement – from kind words to high fives.
"It feels like my second home," admits Skylan. "I really love East Wake. The students and the teachers are so welcoming. They believe in me, and they know that I am capable of doing what they ask despite my challenges."
Thanks to her support system at East Wake, Skylan is now Miss Freshman for the class of 2020, the head of the 9th grade student council and the softball manager for the varsity team. Skylan is not letting anything derail her involvement as an active  member of the Heath Occupations Students of America club and drama club.
Skylan shared her reaction to the news of winning Miss Freshman, a voting competition among her classmates. She simply replied, "I screamed!" Skylan treasures a deep pride in her school and a vibrant hope for the future – all cultivated by a caring, supportive community at East Wake High.
Wendell schools are committed to developing well-rounded students by unlocking their potential with innovative programs beyond the standard curriculum.  In this blog series, we'll share some of the exciting transformations, intriguing journeys and heart-warming successes celebrated by students and teachers across eastern Wake County.