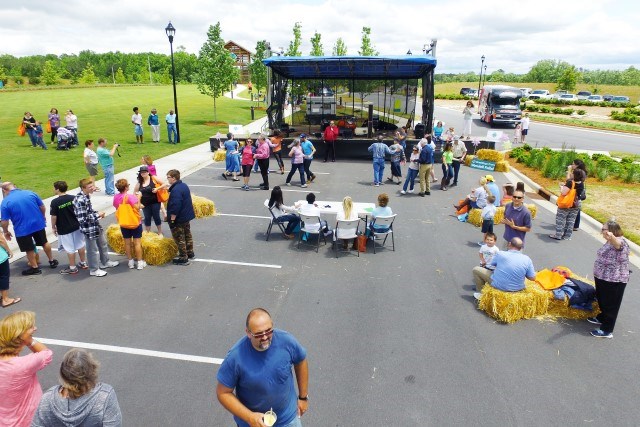 Wendell Falls Raises the Roof on a Successful First Year with a Barn-Raising Party
Wendell Falls marked its first anniversary with a barn raising-themed event in May. Marrying tradition with innovation, the down-home celebration showcased bluegrass music, family activities, giveaways, Southern fare and a Hoedown Showdown celebrity dance competition.
"Our first year yielded exciting economic growth for both Wendell Falls and eastern Wake County," said Shannon McSwiney, marketing director, Newland Communities. "It has been a privilege to invest in Triangle partnerships to unveil the premiere lifestyle and living options that Wendell Falls has to offer."
The Barn Raising featured live music from renowned bluegrass band Old Habits along with beer and fare from Burrito, Wandering Moose, Little Dippers and Gizmo Brew Works. Families enjoyed a bungee trampoline, magician, games, crafts and Muddy the Mudcat on the festival lawn. Local stars and media celebrities competed in the Hoedown Showdown, a square-dancing competition that awarded the winner $1,000 to donate to a charity of his or her choice.
Wendell Falls has been a strong addition to eastern Wake County, providing great support and resources to the community and schools on which to build a bright economic landscape, said Teresa Piner, manager, Town of Wendell.
Since grand opening in May 2015, Wendell Falls has secured 114 home sales with a total of 53 current homeowners and more than 200 total constructed houses. In addition, Wendell Falls has bolstered Wake County with initiatives such as a new track out program, improvements to local schools and what is slated to be one of the longest trail systems in Wake County.
The community has also secured seven prominent design and marketing awards, including two Major Achievements in Marketing Excellence (MAME) Awards from the Triangle Sales and Marketing Council (TSMC) as well as the 2016 Community Enhancement Award at the Triangle Commercial Real Estate Women (TCREW) Champion Awards.
When complete, Wendell Falls is planned to include up to 4,000 single-family homes ranging from the high $190,000s to the $500,000s. The community also features EcoSelect green-certified homes and amenities complemented by approximately two million square feet of commercial-retail space, open spaces and public parks.