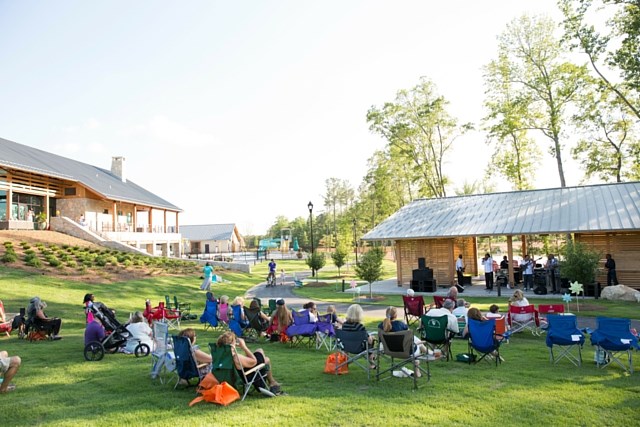 10 Reasons to Love Wendell Falls
Paige Rhinehalt
Customer Relations
Our Breathtaking Views
If you haven't seen a sunrise or sunset at the Farmhouse, you're missing out. Check out our Instagram or Facebook page for a sneak­ peek and when you're out this way come by the Farmhouse, grab a drink, and prepare to be amazed.
Towering Pines, Miles of trails
Get lost in 273 acres of open space, with multiple parks and 10 miles of trails and pathways winding through forest, lakes, and streams; with future plans connecting you to the Mountain to Sea trail. With community fire pits, grills, and of course corn hole boards, our parks and pavilions are places to gather for good times with great friends.
Our Bonds are Magnetic
Our porch lined streets and sidewalks connect unrivaled community amenities to bring people together. From wine tasting at the Farmhouse with neighbors to afternoon coffee at our on-site Grounds Café ­, the families of Wendell Falls come together to enjoy a rich social life and deep connection with the outdoors.
Proximity…We're well Connected
­Less than 15 miles east of downtown Raleigh, residents enjoy an abundance of shopping, dining, cultural events, and sports nearby. Everything you want and need is all right here - easily accessible with interchange at the future I-495 and Wendell Falls Parkway. You get the excitement of the city, with the crisp fresh air of the country.
Farmhouse Jams & Movie Nights
Where neighbors meet over delicious food, live music, and good vibes. Local bands jam at our Lakeside Pavilion during our summer concert series, while during the fall our ­ festival lawn turns into an outdoor theatre. So, grab your friends and join us to see what the excitement is all about!
Our Southern Charm
Timeless architecture meets rustic contemporary mixed with a little laidback southern charm, creating the extraordinary sense of southern hospitality you'd expect in North Carolina. Our southern roots shine creating a community that encourages grander game days and more neighborhood barbeques.
Grounds Café
Taste the local flavor of the triangle at our on-site cafe, Grounds Café. Grab a cup of coffee and breakfast on your way to work, stop by for lunch with friends, or enjoy a casual drink in the evening. Weekly events such as live music and weekend brunch are quickly taking shape at the café. Come plug in and use our complementary Wi-Fi for a change of scenery!
The Farmhouse – The Heart of our Community
The Farmhouse is the place to meet friends, relax, and let your hair down. Grab the kids and dive into the fun at our community saltwater swimming pool with a splash zone and relaxing lounge areas. Head to our 24 hour fitness center or bring your book to the lakeside pier and overlook—a quiet place for reflection. Whatever you are looking for, the Farmhouse will quickly become your second home.
We Value the Wonders Outside our Front Door.
That's why all homes in Wendell Falls will be built entirely with ecoSelect to deliver top quality and maximum efficiency. That means lower bills for you, less waste pollution in your world, and more $$ for all the fun stuff!
Experience Local Like Never Before
From Raleigh coffee and draft beer at Grounds to local produce stands during Farmer's Markets on the Festival lawn, we love bringing together locals in our community! Our partnership with Ray Family Farms even delivers local, natural grass-fed meat and dairy right to the doorstep of Wendell Falls' homeowners.
Have you fallen for Wendell Falls yet? If not, come visit us at the Farmhouse or join us at one of our community events to see why Wendell Falls should become your side of the Triangle.