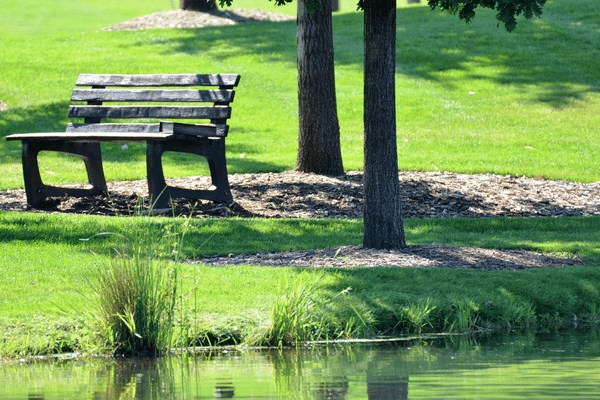 Wake County Parks Near Wendell Falls You Need to Know About
With miles of trails and several parks and playgrounds right in Wendell Falls, you may not have gotten a chance to explore the other parks and trails in Wake County yet. Spoiler alert: there are a lot! Here are some of our favorite spots close to Wendell Falls to explore when we need a little time with nature:
Sandy Pines Preserve
At Sandy Pines Preserve, you can enjoy 6.5 miles of walking and equestrian trails through pine forests, creeks, a pond and open fields.
You can easily travel Sandy Pines Preserve's hoof-friendly trails on horseback with features such as pull-through parking for trailers, tie-up eye hooks and mounting blocks and benches.
You can also uncover hidden treasure while exploring many of Wake County's parks, including Sandy Pines Preserve and Robertson Millpond Preserve, by trying out geocaching! If you haven't heard of geocaching, it is an outdoor, real-world treasure hunting game in which players find concealed geocaches through GPS coordinates from geocaching.com.
Robertson Millpond Preserve
Robertson Millpond Preserve is an 85-acre preserve on Buffalo Creek with a paddling trail, walking paths, a historic dam, interpretive exhibits and fishing areas.
Bring your own kayak, canoe, paddle board or small trolling boat and cruise down the 1.15-mile trail. You can also fish in designated areas from your boat, the shoreline or on the pond's platform and reel in sunfish, catfish, pickerel and more.
This park has been identified by the North Carolina Natural Heritage Program as a significant natural area in Wake County and recognized as a Wetland Treasure by the Carolina Wetlands Association. The park's blackwater cypress-gum swamp is uncommon this far north and west and has many species from the coastal plain present.
Turnipseed Nature Preserve
Part of the Marks Creek watershed, Turnipseed Nature Preserve is a 265-acre park with uncommon boulders and granite rock outcrops, gardens and hiking, biking and walking trails.
Turnipseed Nature Preserve is designated as a significant natural area by the North Carolina Natural Heritage Program and features one of the last major exposure sites of crystalline rock heading east towards the Coastal Plain. Along the Boulder Trail you will find batholith, or a large body of granite, made up of medium-grained biotite granite and coarse-grained granite. 
Historic Oak View County Park
Located in the southwest part of Wake County, Historic Oak View County Park is a 27-acre park with gardens, covered shelters, interpretive exhibits, historic sites, farm animals, hiking and walking trails, fishing, events and educational programs.
Stop by the Farm History Center and dive into North Carolina's agricultural history, check out an authentic sharecropper's cabin, or learn about farming in Farmer's Corner. You can also check out Oak View's Adventure Backpack, a self-guided kits for children to learn about Oak View's history thorough activities and games, and then head outside to explore the park and visit Oak View's goats and chickens.
Visitors can get lost in Oak View's historic cotton field with beehives at the edge, fruit orchard featuring grapevines and peach, cherry, pear, fig and apple trees, kitchen garden with fresh herbs and Pecan Grove.
Historic Yates Mill County Park
A 174-acre park in the southwestern part of Wake County, Historic Yates Mill County Park is home of the Historic Yates Mill, the last operable water-powered gristmill in Wake County.
Historic Yates Mill has miles of hiking trails, picnic areas, selfie-stations, seasonal programs, fishing areas, photo ops and more for you to enjoy. You can even help scientists collect data and earn badges and prizes through Historic Yates Mill County Park's ecoExlpore program!
Learn more about   Wake County's parks here and check out Wendell Falls parks and trails here.