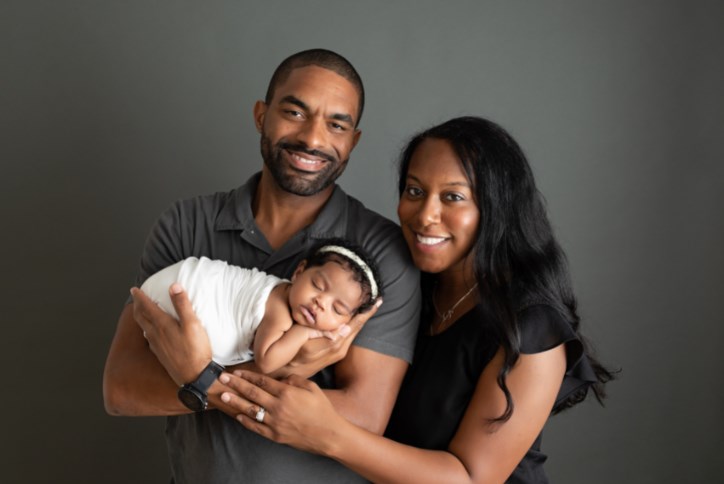 Resident Spotlight: Meet Donnell Perry!
While looking for a new home in the area, Donnell and his wife Tiffany fell in love with the floorplans and outdoor space at Wendell Falls. Since moving in, they have found a community that feels like family.  
Tell us your story! What brought you to Wendell Falls?
I'm originally from Raleigh, and this was one of the first communities my wife and I looked at when we were looking to buy a home. Some of the things that really stood out to us were the amenities, the green space, the layout of the homes and just being a part of a community that's growing. We thought this would be a good place to raise a family, as well.
What made you fall in love with Wendell Falls?
We found Wendell Falls through an online advertisement and decided to come out to the community. When we visited, we really fell in love with the way the community was laid out. Once we learned the community's plans for expanding and the commercial space that's underway, we didn't bother looking anywhere else. Our realtor told us there was nothing else like Wendell Falls in the Triangle, and we knew this was our home. We loved the builders, home layouts and amenities. It was a no-brainer.
My wife and I are also into triathlons and cycling, and we're involved in the run club as well. Before we moved here, we were coming out and getting to know the cycling community and runners. We were amazed by the people we met from the neighborhood and how welcoming and kind everyone was, so moving here was an easy transition for us.
What are your favorite activities or clubs in Wendell Falls?
We are involved in a lot of cycling and running groups. A few of the residents and I are trying to build the run-club back up from pre-COVID. We meet at the Farmhouse every week, and we have a Facebook group, Farmhouse Run Club, where we get people involved and post local races and activities in the area. A lot of us link up to go running both in the neighborhood and in areas outside of Wendell.
We also use another Facebook group, WF Road Cycling, to get cyclists together and active in local cycling events and group rides. I see so many cyclists in the neighborhood that are new to the area, so we revamped that page to try to get people in the community together and form a cycling group.
Now that you've been living in Wendell Falls for a few years, what do you love about the community?
One of the biggest things is the people here. We've met so many great friends that have moved here from all over. It's almost like an extended family. We have a newborn in the house, and it's been great seeing everyone's love and support.
We also love the Farmhouse Café. We had a baby shower over at the pavilion and had just about as many people come from the community that we had come to our wedding. The Farmhouse has been a staple for us to meet people for lunch, and we're always up there. It's great for getting a quick bite to eat without going too far.
We are excited about Treelight Square, too, and the other opportunities that are coming to the community. We love being able to just walk to dinner and walk back home.
What would you tell someone who was considering moving to Wendell Falls?
I think my wife would agree, for anybody that's looking to move here, the best thing to do is come out and visit the community or attend an event. Come out to the community and really get a feel for the people. I think that's the best way to really know what it's like here, and you'll just fall in love with it. Being in a supportive community with good people is a priceless thing to have. We could not have found a better community.
 Ready to move in? Check out our available homes.
Photography by Faith V Photography
Wendell Falls is located just 15 miles from downtown Raleigh, North Carolina, one of the fastest-growing metro areas in the U.S. Explore artfully crafted new homes and townhomes from the mid $300,000s – $900,000s+.