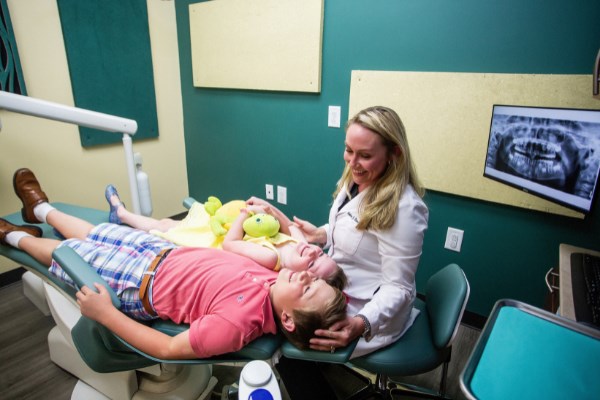 The Smiling Turtle Pediatric Dentistry joins Wendell Falls
We're smiling ear-to-ear for the newest business coming to Wendell Falls, The Smiling Turtle Pediatric Dentistry. The Smiling Turtle will be a full-service dental office treating children from infancy through teenagers and is expected to open in early 2022. Their top priority is caring for your child's oral healthcare through education, prevention, positive motivation and quality treatment.
The Smiling Turtle will join the ever-growing Treelight Square community, a retail and dining destination a short distance from your home in Wendell Falls with places to shop, work, dine, drink and more.
The dentist can be an intimidating experience for children, but The Smiling Turtle makes every child's appointment easy and enjoyable. Their mission is to create a welcoming environment that children love through fun turtles and friendly staff.
The Smiling Turtle's primary focus is monitoring your child's dental growth, development, and preventing and intercepting dental diseases along the way. It offers an extensive list of dental services, including but not limited to, comprehensive examinations, fluoride treatments and alternative preventative therapies, extractions, nerve treatment and emergency care.
Neidre Banakus, board certified pediatric dental specialist, is excited to join the Wendell Falls community.
"At The Smiling Turtle Pediatric Dentistry, we make going to the dentist fun by combining our unique approach and atmosphere for kids with a relaxing environment for adults. Each member of our team works to ensure that every patient is treated with love, care and a uniquely tailored approach that is specific to each child's needs. We are so excited to be opening our second practice location in Wendell Falls and look forward to becoming a trusted member of the community."
Visit The Smiling Turtle for more information about its dental services and check out the Wendell Falls website to learn more about the community!
Wendell Falls is located just 15 miles from downtown Raleigh, North Carolina, one of the fastest-growing metro areas in the U.S. Explore artfully crafted new homes and townhomes from the upper $200,000s – $900,000s+.