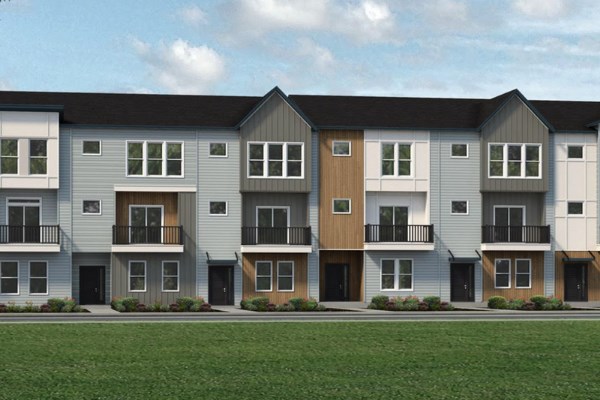 New Spacious, Luxury Townhomes in Wendell Falls
No longer are townhomes cramped living spaces with low square footage and nonexistent storage. Enter brand new, luxury townhomes from builders Garman Homes and Homes by Dickerson. These three-story townhomes will be in the Treelight Square district, within walking distance of restaurants, retail and Publix! 
Townhomes Reimagined
In addition to the convenient location and spacious design, the townhomes will offer features that align with the evolving lifestyle needs surrounding COVID-19 protocols, hygiene and other health concerns in the home. 
"These townhomes feature so many options to make each home personal to the homebuyer and with safety, comfort, and design in mind," according to Emily Fussell, virtual sales & marketing liaison at Garman Homes. "All plans in this collection also include a balcony for that much needed vitamin D replenishment!"
Some of the other distinctive, optional features include garage sanitation stations, a full-bath on the lower level, plenty of storage and space to keep things isolated, office space, rec rooms and guest suites on the lower level, and a Clean-Home zone which is additional garage space to remove any clothing or personal items before entering the home.
Garman Homes Townhomes
The Hero Townhome Collection from Garman Homes was named in honor of Garman's Gold Star families and Hero Homeowners SFC Elis Barreto and SGT Justin B Onwordi. Along with the COVID-19 considerations, this collection features 3-story luxury townhomes with tons of closet space and storage throughout.
Homes By Dickerson Townhomes
Brooke Carroll, vice president of sales and marketing at Homes By Dickerson, is thrilled to introduce Homes By Dickerson's new townhomes to Wendell Falls.
"Homes By Dickerson is offering four brand new floorplans ranging from 1,830 square feet to 2,530 square feet featuring a darker color palette with black windows, metal accents and glass contemporary doors. The new plans offer first floor bedroom suites or study options as well as various locations for pocket offices throughout the home. Every home will feature an oversized deck with privacy walls so residents can enjoy the views." 
The townhomes will be move-in ready spring 2022 and will be priced in the $400,000-$500,000s. In the meantime, browse Wendell Falls' website to learn more about the amenities, lifestyle and events you won't want to miss.
---
Wendell Falls is located just 15 miles from downtown Raleigh, North Carolina, one of the fastest-growing metro areas in the U.S. Explore artfully crafted new homes and townhomes from the upper $200,000s – $900,000s+.