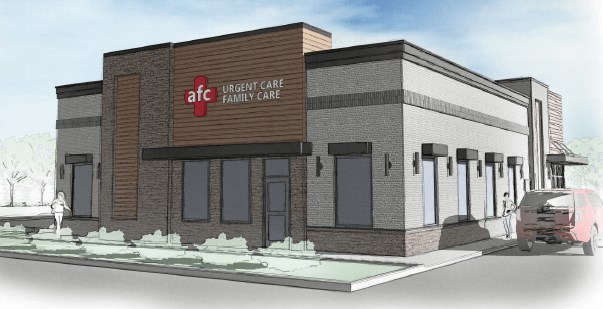 AFC Urgent Care joins Wendell Falls
What is AFC?
American Family Care is one of the most widely known and admired brands in healthcare with more than 240 facilities across 26 states. AFC clinics are designed, equipped and staffed to provide accessible primary care, urgent care, minor emergency treatment and occupational medicine.
The team at 2J3O, LLC, a franchisee of AFC that is led by Aaron Fields & Aaron Zucker, is passionate about providing healthcare to the community in the safest and quickest way possible.
When should a patient come to AFC Urgent Care instead of the emergency room?
Last year, 98% of urgent care visits in the United States were managed and treated in the urgent care space. In general, patients will find that an urgent care setting like AFC will offer a more convenient, faster and more affordable alternative to a typical emergency room.
How is AFC Urgent Care different from an emergency room or primary care physician?
AFC makes it easy to get medical attention when you need it. Walk right in on any day, night or weekend and get professional, convenient care with minimal wait times. No appointment necessary. AFC offers urgent care for minor accidents and illnesses without the emergency bill. At AFC, we recognize that no one is excited about spending their valuable time in a healthcare facility, so we try to make that experience as pleasant as possible by providing snacks, drinks, televisions with cable, Netflix and Wi-Fi. Of course, all of those are free to the patients and their loved ones accompanying them. A smile from our staff is always guaranteed, even from under a mask.
What sets AFC apart from other urgent care clinics?
At AFC, it's not just about our cutting-edge technology and services like X-rays, COVID-19 testing, diagnostic procedures and clinical lab testing. We truly care about our patients' health, time and general well-being. We are honored to be a part of the communities we serve and would encourage anyone to view our Google reviews in Fuquay-Varina to audit that culture we have created.
What kinds of services do you provide?
AFC offers a variety of services including:
Patient care
Physical exams
Testing
Vaccinations
Virtual TeleCare services
Additional services such as X-rays and seasonal allergy treatments
"When the opportunity to open a clinic in Wendell Falls came up, we reacted quickly, as we knew what Brookfield is doing in Wendell is nothing short of extraordinary. The community is an ideal fit for what we are looking for while executing our growth plan, and we couldn't be any more excited to open at Treelight Square." – Aaron Zucker (Franchise Owner, 2J3O, LLC)
---
Wendell Falls is located just 15 miles from downtown Raleigh, North Carolina, one of the fastest-growing metro areas in the U.S. Explore artfully crafted new homes and townhomes from the upper $200,000s – $900,000s+.