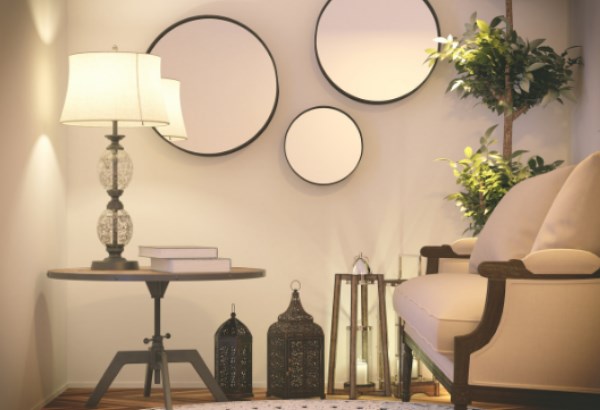 HBD Style Expert Weighs in on Top Home Trends
It can be easy to fall in love with a brand-new home when you tour the staged landscape. After all, every piece of furniture looks like it was made specifically for that space and color palates seem to flow perfectly. But post-purchase, many homebuyers grapple with this big question: How do you get your brand-new home to look like the styled model home you fell in love with?
As a new homeowner, styling your home can be very exciting and overwhelming. There are so many trends to keep track of that it can be hard to know where to start.
Turner Hairr, director of Homes by Dickerson Interiors, is sharing her "Top Home Trends'' to help you style your new home. But existing homeowners should also take note - these trends can easily be incorporated to freshen up your living space and make it feel brand new.
Earthy Interiors
A mix of greenery and natural wood tones with neutral accents is one way to show off style and capture a crisp, clean look. Incorporating natural pieces and textures into your rooms will make your home feel cozy and relaxing. Try balancing natural wood tones with bright white to make your space stand out. "Personally, this is my favorite new home trend," said Hairr. "I love the mix of wood tones and greenery to make a space feel calm and inviting!"
Shades of Green
Hairr projects that clients who want a pop of color in their home are likely to go with some sort of shade of green. Different shades of green will set your home apart and make your personal style pop! Intimidated? Hairr encourages DIY decorators to try it on a single piece of furniture or just as an accent wall. Want to really make a statement? Paint an entire room or kitchen cabinets. Olive greens, emerald greens or sage greens can all add to your home color palette and create a gorgeous - and fun - living or workspace.
Monochromatic
Incorporating a monochromatic color scheme into your home office or study is a great way to create a space to focus. Use a matching color for the room and furniture and minimal use of color accents for a cohesive, stylish look.
Mixing Styles
"Clients who don't have an exact style are most likely to go with this home trend," says Hairr. "It is common to have a mix of contemporary and traditional styles right now and it ends up being eclectic and gives off a bit of a vintage feel." Hairr suggests styling more modern furniture and accent pieces in a room with traditional rugs and wall paneling or vice versa. The possibilities are endless! Mixing styles is a fun practice that will allow you to incorporate the latest trends with timeless pieces.
No matter which trends you try - or don't - it's important to remember the number one "must" of home ownership: to create a living space to best fit your and your family's use and lifestyle.
---
Wendell Falls is located just 15 miles from downtown Raleigh, North Carolina, one of the fastest-growing metro areas in the U.S. Explore artfully crafted new homes and townhomes from the high $200,000s – $700,000s+.