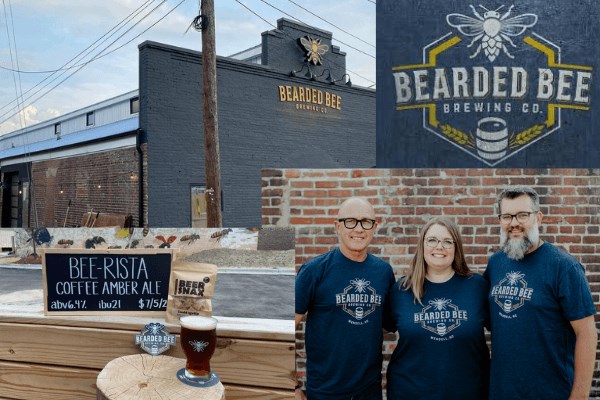 Discovering Downtown: Bearded Bee Brewing Company
What's the newest buzz in town? Bearded Bee Brewing Company recently opened the doors to its cozy brewery and taproom, where good brews merge with good people. Located on East Campen Street in the heart of Wendell, Bearded Bee aims to be the local "hive" of Wendell. Here, "friends, family and pets gather to enjoy great company and great beer!"
Power couple Derek and Keri Ayscue brewed up the Bearded Bee concept from Derek's love of honeybees. He cultivated his own hives, and with the abundance of rich honey, Derek brewed his first mead from home. This grand experiment burgeoned into a personal passion...which led to the Bearded Bee in downtown Wendell. The brewery's mission is to offer delicious beer using local ingredients while supporting the local beekeeping community and honeybees.
This local brewery not only drips of honey and home, but it's backed by several passionate and proficient worker bees. Derek and his wife Keri along with the rest of the team are hard at work crafting new flavors, serving customers and coming up with new ideas for their business.
Not only does Bearded Bee Brewing Company invite guests into their colony, the company partners with local restaurants for food truck events. See for yourself what's coming up this week!
Craving a homemade brew? Grab a glass of Derek's award-winning Braw Bahoochie Wee Heavy, a tantalizing mix of rich, malty and sweet. Feeling fruity? Take a sip of the flavorful Honey Come Back Hazy Honey IPA.
Beyond the beverages, Bearded Bee Brewing Company offers a warm and welcoming atmosphere that brings people into its hive time and time again.
Check out other hot spots in our Discovering Downtown series!
Wendell Falls is located just 15 miles from downtown Raleigh, North Carolina, one of the fastest-growing metro areas in the U.S. Explore artfully crafted new homes and townhomes from the $220,000s – $600,000s+.