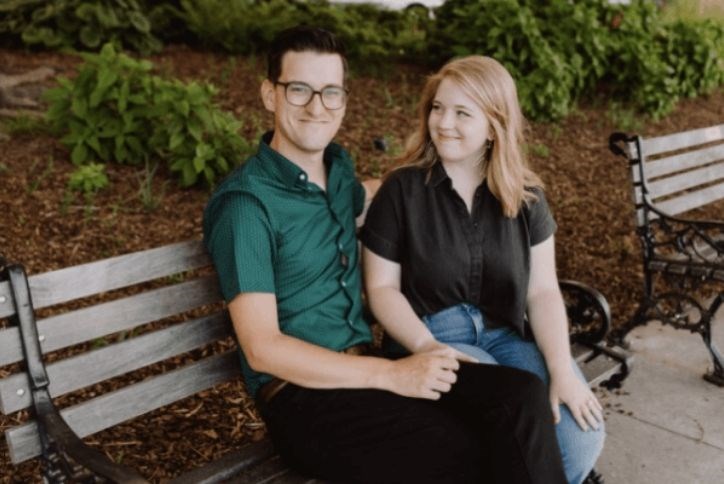 Resident Spotlight: Meet the Schermbecks
The search was on for Kyle and Katie Schermbeck. They sought a community that offered open space and versatile amenities along with proximity to their families in Raleigh. And in August of 2018, Wendell Falls made their dreams come true when they moved into their new Garman home … along with Truman, their fluffy mini-Goldendoodle.
Kyle and Katie started their story as high school sweethearts. After pursuing degrees at Appalachian State, the pair tied the knot (and just celebrated their five-year wedding anniversary). The couple works for an educational non-profit, but in their free time, Katie and Kyle dream up decorating projects for their beautiful new home.
But that's not all the couple "cooks up" in Wendell Falls! Kyle recently started a food blog called Weeknight Dinner Party - a place where he shares all of his favorite recipes in hopes of making cooking accessible to everyone, while making memories with loved ones. Check it out on Instagram and Pinterest!
More about Weeknight Dinner Party:
"Growing up, tables were a place where all were welcomed. Food, to me, is so much more than the ingredients that make a meal or something that provides nourishment. It tells stories about family history. It allows us to share ourselves with others in ways that aren't possible in other circumstances. It's my hope that you feel welcome here, and that you always know you have a seat at this table."
What do you love about Wendell Falls?
We love all of the amenities and open spaces in Wendell Falls. We take long walks all of the time and appreciate how well maintained the trails and parks are. It makes for lovely sight-seeing! … In addition, Garman Homes was our builder. Every person we talked to throughout the process was incredibly helpful and accommodating."
Looking for your perfect home? Explore our quick move-in options, or check out our award-winning builder team!