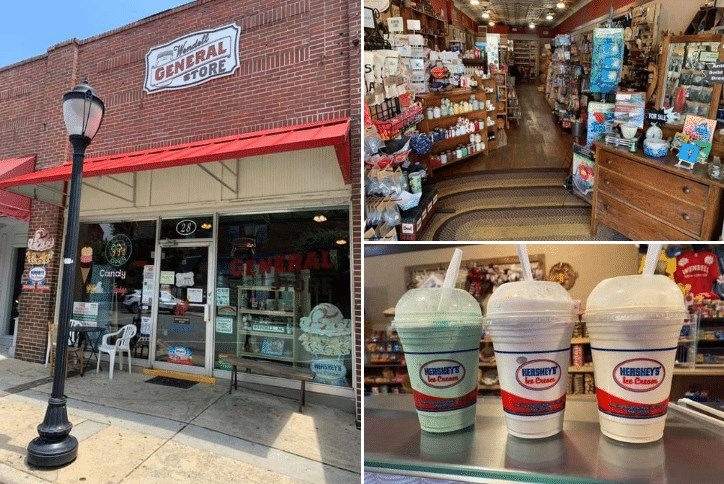 Discovering Downtown: Wendell General Store
Wendell General Store is a cornerstone in the downtown Wendell scene, exuding the charm of yore blended with the goodies of today.
Curious? Pop by after work or stroll through on a lazy Saturday to peruse the shelves lined with local canned goods, whimsical gifts and candy. By candy, we mean rows and rows of more than 50 kinds of lip-smacking sweets, from taffy, old-fashioned candy sticks and candy necklaces to hand-made, chocolate-covered confections. A full throwback adventure!
Turn the aisle for an impressive selection of North Carolina jams and jellies, cheeses from Ashe County, pickled items, meats and sauces. Needing a gift? Local artisanry includes toys, pottery, jewelry, lotion, soaps, candles, signs, kitchen towels and quaint home décor.
Don't forget to nab a scoop of creamy goodness off of the General Store's hand-scooped ice cream bar!
Wendell General Store comes with a heart-warming history. Originally, Regina Harmon, owner, launched the General Store as a fundraiser for the Wendell Chamber of Commerce during the holiday season. The first iteration was a pop-up candy store offered during December weekends, and the fundraiser was such a success that the Chamber moved the Lake Myra Light Show downtown. After the second year, the community begged for Regina to keep her beloved candy shop open year-round, and not long after, Regina debuted the Wendell General Store stocked with delectable wares.
"The Wendell General Store was created with the idea to give family, community and kids a fun, safe place to go," said Regina, founder and owner. "I feel we have accomplished that and more. Inside the store, there is ice cream, a sitting area for families to hang out, watch tv, color and play with toys. Parents not only find this a wonderful place to just hang out and have a conversation with a friend, but a place where their child is also in a safe and fun environment."
Come see what goodies and adventures Wendell General Store has for you!