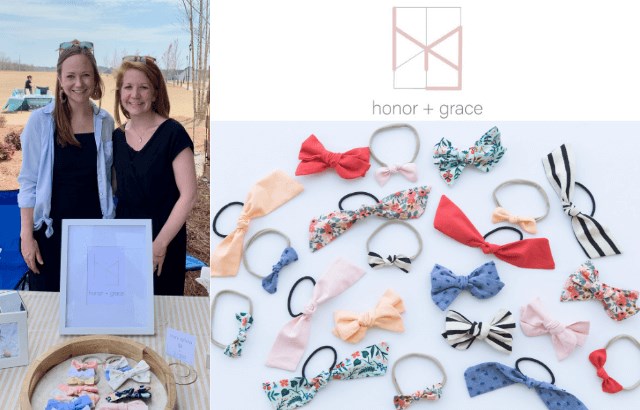 Wendell Falls Entrepreneurs: Honor + Grace
Honor + Grace: Katie Bagwell and Ashley Hardison
What is your business?
Honor + grace  is a special collection bow company, run by us - two girl moms! We curate and hand make each bow right here in the neighborhood. We enjoy coming up with new bow styles, and finding new fabrics for each collection, offering options for newborns, toddlers, older girls, & even adults/moms. We currently sell our bows online at shophonorandgrace.com and at local pop up markets in the Raleigh area. 
How/why did you get started?
We (the Hardisons & the Bagwells) met at trivia night at Grounds not long after we all moved to Wendell Falls! The four of us bonded pretty quickly, and soon we began hanging out & connecting on everything from our faith to new parenthood! We've all always had an entrepreneurial spirit, and we created the vision for this company over breakfast one morning, sitting around the dining room table. Since then, honor + grace has been born out of love for collaboration, creativity and great style. 
What made you choose Wendell Falls?
Both of our families came to Wendell Falls for similar reasons. We all loved the community and how the amenities and events of the neighborhood make it so easy to meet your neighbors and make friends. We also love the location, and that we can enjoy "resort style living" while still living on a short drive from downtown Raleigh, North Hills, etc. 
How has living at Wendell Fall benefited you or your business?
We've really enjoyed the support our neighbors have shown us since beginning our business just a few months ago through buying our bows, modeling them for photos for our website/social media, or coming to support us at local pop up markets. We participated in the Fine.Crafted Market at the Farmhouse in the Spring and it gave us a great opportunity to launch our business and share it with others in the neighborhood!
What advice would you give to someone trying to become an entrepreneur?
Make a plan and set goals to hold yourself accountable on what you'd like to achieve. It's easy to let things fall through the cracks but consistency pays off!
Be willing to shift & adjust your business plans as you learn what works and what doesn't. 
Find systems and ways to be efficient with your time so that you can have a separation from work life and home life. It's so easy to fall into being in "work mode" all day every day when you work for yourself, but it's important to step away to keep from getting burnt out!