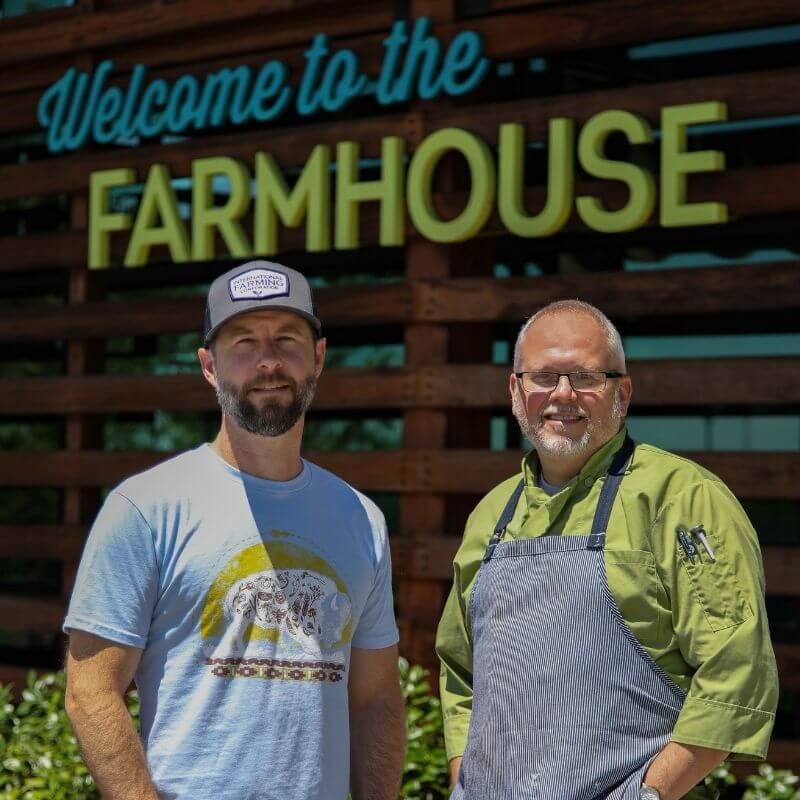 WENDELL FALLS WELCOMES FARMHOUSE CAFÉ!
Our Farmhouse has always served as the cornerstone of Wendell Falls, a central hub to meet, share a meal, sip a frothy latte and enjoy everything from outdoor yoga to live music.
We know that our café anchors our community, so we're thrilled to finally announce our new café partners! Please join us in welcoming Patrick Cowden and Daniel Whittaker as they launch The Farmhouse Café this September. 
Patrick and Daniel: The Dynamic Dining Duo
Together, Patrick and Daniel bring 55+ years of experience in the restaurant industry with tenures at establishments like Weathervane, Carolina Country Club, Rocky Top Hospitality and Michael Jordan's 23 Sports Cafe. In fact, you might recognize Patrick and Daniel as the co-owners of the renowned Pharmacy Café in downtown Raleigh and Green Planet Catering!
"As life-long entrepreneurs in the hospitality world, Patrick and I have always viewed our jobs as a way to cultivate community through food and drink," said Daniel. "Our team is excited to show the residents and visitors at Wendell Falls what is possible in such a beautiful space at the Farmhouse."
Another fun fact? Patrick – who will serve as Farmhouse Café's executive chef – is a Wendell Falls resident himself! Hiya, neighbor.
So Much in Sumptuousness in Store!
You'll love what they have planned.
Breakfast, lunch and dinner – all derived from seasonal foods harvested near Wendell Falls. Delicious staples – like the salad bowls for which the Pharmacy Café is known. A fun "social menu" for the evening comprised of shareable small plates designed to be paired with a glass of wine or craft beer. Gourmet coffees, craft beers, local wines and kombucha and prosecco on tap. And a host of fun foodie events – from crawfish boils to wine tastings!
They're Our Kind of People
Best of all – they love what you love. The Farmhouse Café will be a place of community where you'll feel like family.
"As a resident of Wendell Falls myself, I have a vested interest in the quality of the experience at the new café," said Patrick. "My ultimate goal is to foster a sense of family at the Farmhouse Café -- a place known for its customer service and local flavor that reflects the community itself."
Patrick and Daniel have long championed sustainability in North Carolina, aligning with the core tenants of Wendell Falls. Green Planet Catering, for example, was the first B-Corp-certified catering business in the United States. In addition, Daniel and Chef Patrick streamlined their businesses to use almost exclusively compostable products and even run their trucks on bio fuels.
They'll fit right in with our Wendell Falls vibe, don't you think?
Stay tuned here on the blog, on Instagram and on Facebook for updates as we approach September!  In the meantime, we want to thank Grounds Cafe for remaining open and serving our community through August 31st.