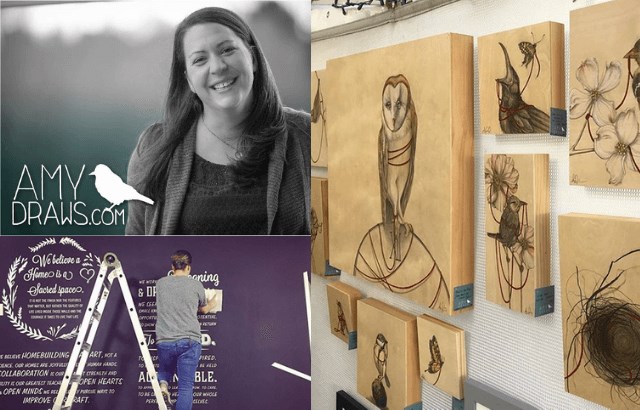 Wendell Falls Resident Entrepreneur: AmyDraws
What is your business?
AmyDraws, I'm a mixed media artist working primarily with pencil and acrylic. My current body of work focuses on the dichotomy of life; a need for security and roots vs. a desire for freedom and adventure. Illustrated through birds found in precarious positions, they are connected with red thread symbolizing a search for balance. I also collaborate with my husband on a body of Embroidered Silkscreen prints of the same subject matter. 
How/why did you get started?
After receiving my BFA from the Art Academy of Cincinnati, and a detour to work for my family's business, I relocated to Raleigh to focus on my art career. I began working as a graphic designer as a 9-5 job and spent my weekends and evenings in my studio. Amy Draws was officially born in 2011.
What made you choose this location?
My husband and I moved to Wendell Falls in the summer of 2015. Our move to Wendell was propelled by a few reasons/needs but mostly pushed by our need for space for two burgeoning businesses. A larger shop for my husband's company and dedicated studio space for myself... plus a yard for the pups.
How has living at Wendell Fall benefited you or your business?
In a lot of ways. First and foremost, big life changes seem to push creativity in my studio, and our first year was full of them.
In more tactile ways, I received a few really great opportunities to work with our builder. These opportunities led to multiple murals in their model & parade homes across the triangle and even one in their main office.
Also, the FINE.Crafted market, has been a really fun collaboration with Grounds Cafe to bring a curated collection of art and craft to Wendell Falls. 
What advice would you give to someone trying to become an entrepreneur?
Be prepared to work.. and creativity comes in many, many, many forms. When you care enough to make your passion, your business, you will be forced to redefine 'normal.'  Our family vacations are designed around Art Markets and Gallery openings.  Visiting family usually means a 'mobile' or 'pop-up' studio. And learning new skills on the fly is an adventure.