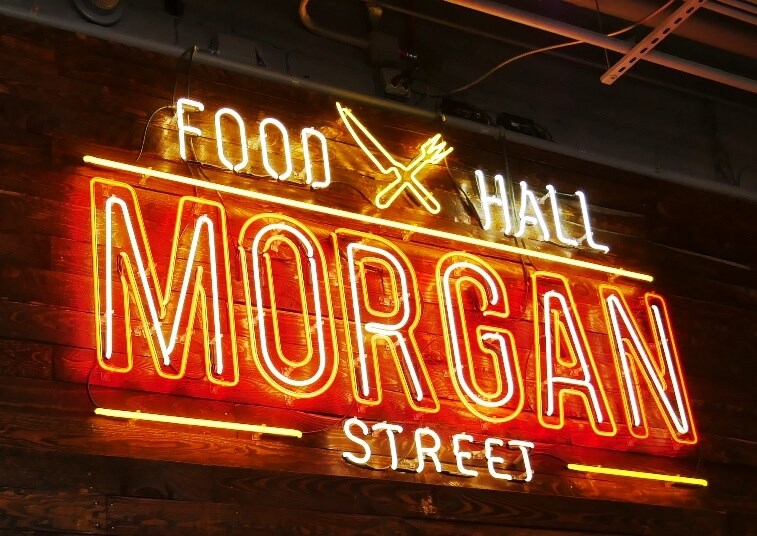 New Eats Coming to Raleigh
By Amy Icenhour - Customer Relations Coordinator
Foodies rejoice! 2018 is bringing some exciting new additions to Raleigh's growing culinary scene. North Carolina's capital city has become one of the state's major food hubs and offers an extensive variety of unique cuisine and dining experiences.
A trendy new dining concept is emerging late-summer in Raleigh: food halls. Morgan Street Food Hall, a 22,000 square foot converted warehouse, is opening in Downtown Raleigh's Warehouse District in August 2018. The food hall will house 20+ food vendors including Cousins Maine Lobster, Sassool, Raleigh Raw, and Oak City Fish & Chips.
Morgan Street Food Hall is just one of two Raleigh food hall projects. Construction has already begun on East Davie Street for Transfer Co. Food Hall, which is looking to open by the end of the summer. Some of Transfer Co. Food Hall tenants include Videri Chocolate Factory, Che Empanadas, Jubala Coffee, and Boulted Bread.
Food halls aren't the only buzz-worthy eating establishments popping up in Raleigh. Scott Crawford, owner of Crawford and Son, is opening his second Raleigh restaurant named Jolie. Named after Crawford's daughter, Jolie will be a French bistro located next door to Crawford and Son on the corner of North Person and Pace streets. The bistro is aiming for a fall opening in late October or early November.
Another acclaimed Raleigh chef, Ashley Christensen, will be opening a pizzeria in Raleigh this year called Pooleside Pie. Christensen originally announced her idea for the pizzeria back in 2015 and has been researching in Italy in preparation for Poolside Pie's opening. The restaurant will feature Neapolitan-style, wood-fired pizzas and will be located beside one of Christensen's other restaurants, Poole's Diner.
With all of the highly-anticipated new arrivals, Raleigh's food scene is undoubtedly flourishing. Lucky for local residents, the Triangle is booming with new options and old favorites around every corner!